7 Great Places for an Outlet in Your Custom Built Home
7 Great Places for an Outlet in your Custom Built Home
Sounds kind of mundane doesn't it? But planning your electrical access is very important for ease of living. These suggestions are not your standard ideas…such as "one every 12 feet along the footboards."
Floor Outlets in Great Room for Lighting etc.
Many new built homes have the "Great Room" floor plan that would call for couches and or chairs in the middle of the room; as opposed to being against a wall near an outlet. If your reading chairs are out in the middle of the room, and you have no outlet for the reading lamp this can be quite cumbersome. A floor outlet strategically placed will save the day for reading light without an extension cord trailing across the room.
Outlets placed for vacuuming the stairs and hallways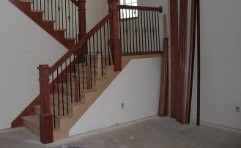 It is very frustrating to have to get an extension cord for vacuuming the stairs or the hallways if there are not any available outlets. This is an easy place to add them as there is usually no furniture placement to consider; but it is often forgotten.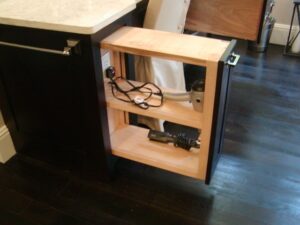 Placement of outlets in bathroom for blow dryers and electric toothbrushes etc. – could they be inside the cabinets?
Oh Yes they could! What woman would not love this cabinet in her master bathroom. You can keep the beauty tools plugged in and ready to go, but not have to look at the mess. Brilliant!
Outside Outlets in the Soffits for your Holiday Lights?
W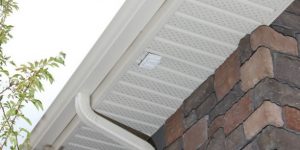 ouldn't this be convenient and save you from all the hassles of extension cords running around the exterior of your house? Extension cords are a fire safety hazard so this could prevent a house fire.
Walk in Closet outlets – for ironing or steaming your garments
You may also want to have a direct light for choosing your jewelry and other accessories.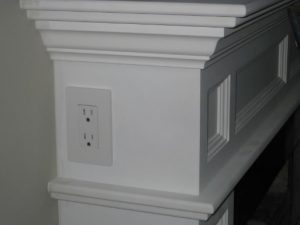 6. In the Fireplace Mantle – so you can add decorative lamps or even twinkle lights during Holiday seasons. Decorations are much more attractive when there aren't any cords stretching up to the mantle from the floor.
Up on the wall for your Flat Screen TV
Wouldn't it be nice not to have to manage those cords dangling down the wall? As long as you plan ahead – This CAN happen.
Any suggestions from you readers out there? We would love to hear from you – Where do you wish you had an outlet in your house that wasn't thought of when building? These are fairly inexpensive to add as long as it is in the planning stages of building your custom home. Please comment and let us know!
Search
Categories
Archives