What Major Storage to Consider in your House Plans-
Major storage to consider in your House Plans
There are so many things to consider when planning your custom built home that it can get overwhelming to remember everything. H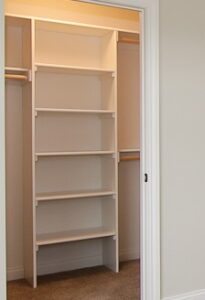 ere are a few storage ideas that we have put together from people's comments AFTER they built their house. Could've, Would've, Should've…
You can never have too much storage. What are some places to sneak in extra storage?
Include a closet in your den – now you have the added value at resale of considering this an extra bedroom!
Leave a section of your lower level unfinished – or finish it with shelving
Include linen closet in bathrooms
Use dead space between rooms for closets – often house plans have empty space between the main floor bathroom and hallway…upstairs bathroom and bedrooms…basement family room and theatre room…open those spots up and put a door on them with shelving inside.
Include a pantry in your kitchen – yes a pantry holds more items than a cabinet of the same size.
Have plywood laid down in the unfinished rafters of your attic space. You probably need to do this during the building stage unless you have a full size door to your attic.
Have closet systems installed in bedrooms and den so that you can maximize your storage space in each room
Include built ins in your home plans so that you have areas to store items used in that room whether it's toys or video games.
Don't use pedestal sinks in your bathrooms – always include cabinets in your bathrooms to store personal hygiene products
Use that space under the stairwell for storage!!!!!
Take that stairwell out of your garage that goes to the basement (you don't want your teens accessing the garage without you knowing anyway!). Now you have a great space to set up your work shop! Without taking away from parking space in your garage.
Lay down plywood on the rafters of your garage for storing seasonal items such as snow shovels and snow blower, tools, bikes during the winter, boating supplies…
So, what are your ideas for sneaking in extra storage for your home? Let us know!
Search
Categories
Archives