What Steps are there to Planning Your Media/Theater Room?
The Steps to Planning Your Media/Theater Room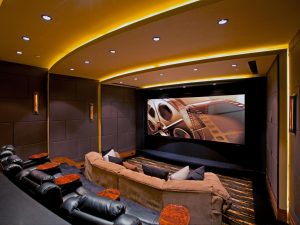 There are many steps to planning your Media Room, but the payoff is great for both Family Fun and entertaining. Here we have it broken down.
Where will it be located? Do you have space in your Lower Level to finish off? What about a guest room that could be converted? An addition is always an option.
The recommended size for a Theater Room (according to HGTV) is 20 feet long by 13 feet wide. This gives you room to have at least 2 rows of seating.
Once you have the walls framed, they need to be soundproofed. We don't want the kids waking up to your helicopter noises! For insulation try to use R11 and pack it loosely in the wall frames.
Choose your system. 7.1 system is recommended this includes

1 subwoofer
7 channel speakers

Plan your lighting – recessed ceiling lights and wall sconces should all be put on dimmers.
Pre-wire your lighting and surround sound system. You will need to choose a spot overhead for the projector. All this is done BEFORE you add the drywall.
Time to Drywall! Use Quiet Rock or another specialty drywall for sound proofing.
Make sure that you choose a solid core door for the room to make a solid sound barrier.
Prime and paint your drywall. Preferably you would use a dark color to encourage your "theater" experience. You can even hang draperies along the walls instead of painting to assist in the sound proofing.
Set up Video and Screen systems. Hang speakers, projector and screen. The recommended size for a 20×13 room is 110 – 120 inches. You might want to include the following when setting up your system…

Blue Ray Player
Cable/Satellite feed
Game Console
PC

Camouflage your speakers with acoustic panels. These can double as artwork as you can paint on them or print on them.
Install your Seating. Anything from a large comfy sectional to professional theater seats.
Push Play!
Search
Categories
Archives