Tips for Choosing a Home Plan to Fit Your Lot
Tips to Keep in Mind when Matching a Home Plan to a Lot
Start with lot dimensions.Knowing your lot's basic measurements and allowable building area will allow you to quickly sort through potential house plans. For instance, a skinny, long lot will do best with narrow house plans. It could also be a tall house plan. There are many narrow floor plans designed to maximize flow and sunlight while maintaining a slender footprint.
Prioritize important features. Beyond meeting basic lot requirements, a dream home should be comfortable and convenient for the residents. Work together as a family to make a list of "must have" features for your new home. For instance, if you're planning to retire in this home, it makes sense to consider a smaller house plan – even single level plans.
Make use of topography. You don't have to "go custom" to capitalize on the unique space opportunities of your lot. For instance, you can locate a daylight basement on the lower story of a home that's situated on a slope.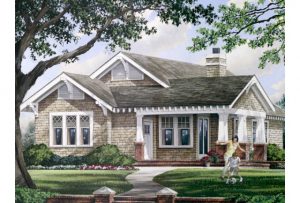 Showcase natural features. You may be lucky enough to have a fantastic view. If your dream home will look out over a lake, stream or mountain range, be sure to select a home plan that has living spaces that face toward that special feature. Even small cottage house plans can be designed with walls of windows to take in that amazing view. Look for plenty of windows facing the showcase view.
Get inspired.Get creative as you compile ideas for your dream home's floor plan. The hardest part of the home design process is visualizing what you want and need without any pre-existing image. Page through home magazines and pull out photos of the things that you like. There are many websites that allows you to create idea boards from photos of existing projects.  Be sure to check out our website for different projects. Then, as you're perusing home plans you can focus in on the ones that include your favorite features.
These are a few of the top considerations when selecting a house plan for a specific lot. Think of this as your starting point. As you dive into the home plan selection process, other traits, such as orientation and the potential for future expansion, will come into play.
Take your time and really get into the plans that you are considering. The more you get into the plans before building, the less expensive and more satisfied you will be.
Search
Categories
Archives