Plan Your Ultimate Deck!!
PLAN YOUR DECK
Many people treat their back yard like another room of their home, complete with furniture, accessories and décor. The best way to design and build the outdoor space you want is to start with construction of a good deck or patio. There are numerous options available for building a deck, talk to your builder as they can help you find the right look to suit your space.
Choose Your Deck Style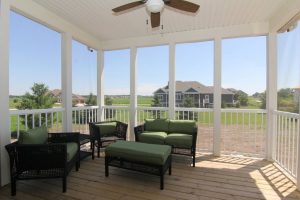 When it comes to your deck and outdoor living space, your builder can help you choose one of the limitless design options to suit your space and style. You can opt for a covered deck or three season porch or an open, uncovered deck. You can get an elevated deck or even a deck that extends up to the second story of your home. A custom builder can help find the right look for you and turn it into reality.
Decide on Your Deck Material
Another area where your builder can be of great assistance is in choosing the material for your deck. You can opt for a basic concrete or wood deck construction. Just with a traditional wood deck, there are still plenty of variations. Different types of wood will offer a variety of colors, different resistance levels to weather and wear, and different maintenance requirements. Other choices include natural stone or tile.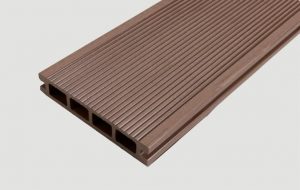 Wood decks are very common, but they require some maintenance. Wood needs to be treated for weather resistance every few years. It can also crack or warp, and occasionally a board or two will need to be replaced. If you want your deck to have the look of a wood deck without the maintenance, there are several composite decking materials available. Composite materials will cost a bit more, sometimes a lot more. It will all depend on which product you choose. But since there is virtually no maintenance once the composite deck is built they can cost less in the long term. In fact, water and a garden hose goes a long way in keeping your deck looking great!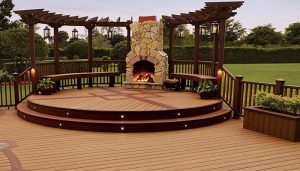 Remember to think about the usage of your deck when designing. Are you a family that likes to eat outdoors? Do you have teenage sunbathers that need their space? All of these things should be taken into consideration when planning your outdoor room!
Search
Categories
Archives