Home Building – Small CAN be Better!
Small Can be Better!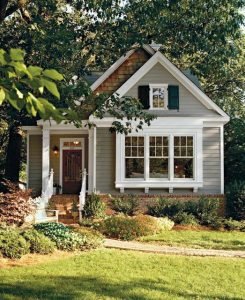 A smaller home has a smaller carbon footprint and therefore requires fewer natural resources for heating, cooling and other daily living requirements. Small homes also cost less and take less time to build. Some homebuyers are looking at the greenness of the home; others simply want to save money on heating and cooling. A larger home of more than 3,000 square feet in size is much more expensive to heat than a compact cottage.
Lifestyle changes have shifted Americans' square footage desires. As we age, we tend to need less space. The National Association of Home Builders' annual "What Home Buyers Really Want" study has revealed that buyers under 35 years of age want an average of 2,494 square feet, while those "better than" 65 seek just 2,065 square feet in their small house plans.
If you're planning to design a smaller home, you should recognize that less square footage doesn't have to feel smaller. Here are some of the design choices that will make any home live large: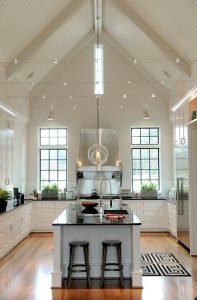 Vaulted ceilings. Vaulted ceilings make any room feel significantly larger. Or, for a really magnificent effect, opt for a dome-vaulted ceiling. Whichever style of vaulted ceiling you choose, you'll find the resulting space to be airy and spacious.
Open layout. Doorways and walls take up space, while an open floor plan reclaims it for you. With an open kitchen/dining/living area, even a small home plan can feel expansive. Plus, an open floor plan encourages togetherness among family members.
Indoor/outdoor connection. Homes with strong indoor/outdoor connections naturally feel larger. Large windows with simple dressings will help create a good connection to the outdoors. Also, look for small house plans with sliding or French doors and built-in patio areas. Any windows that are placed above eye level will lend a small home extra spaciousness. Throughout time, home designers have understood that high windows create excellent natural light to help make spaces appear larger.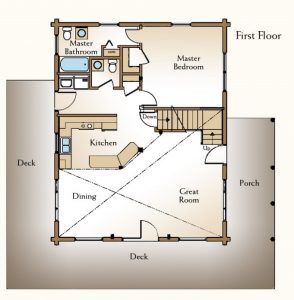 Minimalism. Clutter is the enemy of spaciousness. For instance, while Marie Antoinette's bedroom at Versailles is actually a fairly large room, it feels cramped due to the over-the-top Baroque styling. Gilded flowers, lush draperies and busy fabric patterns make her room feel small. On the opposite end of the design spectrum, we find minimalism, which is simple and understated as to make any room feel larger. To make your home feel bigger, opt for contemporary, minimalist design, and look for small home designs that include plenty of built-in storage.
Enjoy your home and your life!
Feel free to call Design Custom Homes for a free consultation on your next project in the Madison Wisconsin area – 608-575-6507
Search
Categories
Archives