Maintenance Free Ideas for Building Your Home
Maintenance Free Ideas for Building Your Home
We have been building for decades. We also have been maintaining our own homes for decades. Over the years, we have come up with some great things to consider when building your home to optimize it for low maintenance. Most of these ideas don't cost much money and the benefits will pay out for years to come.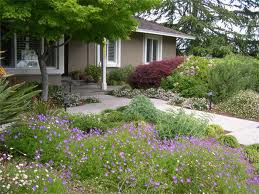 Get rid of that lawn! It sucks up water and time to maintain. By planning your landscape well, you can make sure that you spend time USING it rather than WORKING on it. You could also use buffalo grass instead of the regular lawn seed. This kind of grass requires little water or mowing and no fertilizer.
Roof Materials –  Use architectural roof shingles (made of fiberglass) or a metal roof instead of those beautiful wood shingles that are a Fireman's worst nightmare. You will be safer in the case of a fire and you won't have to clean, treat and replace them as frequently.
Siding on your Home – There are many low maintenance options for siding. Some of them come in their solid form colored to your choice. This way you also are eliminating the job of painting or staining every few years.

Vinyl Siding – even comes in shake forms in every color under the sun. It won't crack, rot, fade, get pests or need to be stained or painted.
Hardi Plank – This is a fiber cement that is molded to have a wood grain in it. Along with not rotting, getting pests or getting stained, it is extremely fire resistant.
EIFS – Exterior Insulation Finish System. This is a synthetic kind of stucco – it allows you to have a great southwest look, without the weather damage that the Midwest can wreck on traditional stucco.

Have a Direct Vent Gas Fireplace installed instead of the wood burning (heat SUCKING) one that requires ashes to be removed and the chimney to be serviced. You don't need tools for this kind of fireplace and you don't need to worry about stacking wood and all the critters that come with the raw wood.
Fiberglass entry door – looks and feels and stains like wood, but there is no sanding, re-finishing or sealing involved. It's pricey – but so is your time!
Counter tops – Use Engineered Quartz, it is anti-microbial adding to the cleanliness of your home, along with being non-porous; this means you never need to seal it.
Solid Surface Counter tops – are much easier to maintain as they have no grout lines to clean, seal and repair. There are many options in this category from Corian to Formica there are contemporary finishes and colors.
Shower/Tubs – Use a one piece tub or shower surround instead of tile and you eliminate the need to clean grout or maintain caulking. Tile attracts mold and mildew. If you want to use natural materials instead of the pre-fab surrounds, you can use slab pieces for each wall leaving only the two wall seams to maintain.
Forget the glass shower doors – design your shower to have a walk in area where the water does not hit. This way you do not spend your precious time scrubbing hard water marks, using toxic chemicals to keep it clean.
Under mount Sinks in Kitchen and Bath – so you don't have to clean the edging.
These are our suggestions, like we mentioned earlier, we have built and owned homes for decades and there are many ways to plan out your home to minimize the maintenance and have more time living! Call us today for a free consultation and we would be happy to give you our ideas for your home. 608-575-6507
Search
Categories
Archives