How Builders Make New Homes More Spacious!
How Builders Make New Homes More Spacious, Inside and Out
Today's homes feel larger than homes built years ago with new floor plans and architectural designs that create both real and "feels like" more space. Spaciousness isn't all about square footage.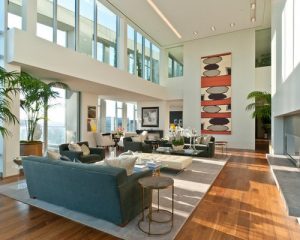 High Ceilings
One of the best ways to make a house feel much larger is to raise the ceilings to 9, 10 or even 12 or 15 feet. High ceiling heights will open up a house. New homes today often have double-height or one-and-a half height ceilings in one or more rooms such as an entry hall, family room or formal living room.
Two Stories
Higher ceilings can be paired with a two-story home and a grand staircase that adds a feeling of even more space. Adding two-story height to the entryway especially gives a home a grand "large" feel – as it aids your first impression when walking into the home.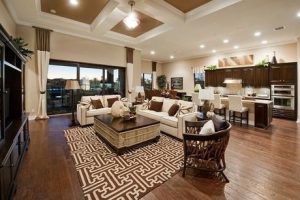 Builders also offer larger single-story homes, though they typically cost more since a larger lot is needed to accommodate plenty of space on one level.
Connectedness
Interior spaces such as a family room, kitchen and dining room without the interruption of walls can make a new home feel bigger. People are looking for that "great room" style that gives the eye a long way to travel before coming to a wall.
Making use of outdoor space makes a home feel larger. Using the same materials for walls, ceilings and floors inside and outside makes the space feel bigger and inspires people to use the outdoors as an extra "room".
Bonus Rooms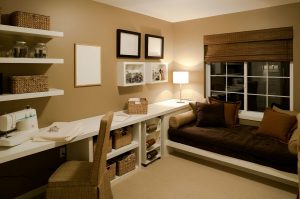 Instead of such rarely used rooms as a traditional formal dining or living room, and hallways, which are typically dark and narrow, builders today add bonus rooms that make a home's space more useful for the homeowners. Workout rooms, office spaces, drop zones, charging stations…
Double-Duty Rooms
Flexible, or "flex," rooms create space by giving buyers options to use one room in multiple ways, giving the house "larger living" space without adding square footage.  These spaces, double-duty rooms, can combine a home office with a guest bedroom, a TV room with a kids' playroom or a laundry room with a crafts room.
Bigger, Better Windows

Windows also create spaciousness, because they extend the indoors to the outdoors and add light to a room. Builders will strategically place windows for optimal views so you can look out and see that pool or beautiful landscaping you put in your backyard. Today's windows are larger than they used to be which makes the room feel bigger.
Lighter Finishes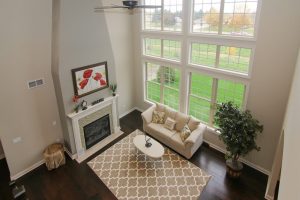 In completing the house, lighter paint colors and finishes are used today to reflect light and enhance the effect of large, open and spacious rooms.
Call Design Custom Homes today at (608)575-6507 for a free consultation. We are located in the Madison area. Visit us on Facebook at www.facebook.com/DesignCustomHomes/
Search
Categories
Archives