The Latest in Remodeling Trends – Dining Room
The dining room can be a funny thing. We know that people want them, that's for sure — practically no one remodels or builds a custom home with only an eat-in kitchen these days. But will you ever use that dining space? Sometimes dining rooms get so formal and fancy that they feel like they're only for guests, so you end up eating at the kitchen island or in front of the TV instead. There's nothing wrong with that, of course, but it would be nice for you to get some use out of the dining room you worked so hard to design.
That's why we're glad to see the big trends in dining rooms moving towards a more livable space. Check out these three big trends for 2016 dining rooms to get inspired to create a space that you'll love to send time in:
An Accent Wall
Accent walls are nothing new — people have been painting one special wall a bolder color for a while now, and it's always been a great way to go bold without overwhelming your room with a deep color. Today's accent walls are even more interesting: Consider a funky wallpaper pattern or a hand-painted mural to kick those color choices up a notch. You can even build your accent wall from a different material entirely: Reclaimed wood, beadboard, brick and stone all add texture and interest to your dining room.
Eclectic Seating
Another way to tone down the stuffiness of a formal dining room is to mix up the seating. Instead of a perfectly matched set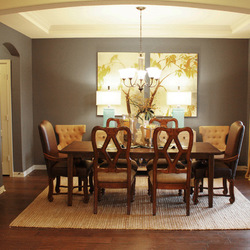 of high-backed chairs, try having a few different chairs that coordinate but don't look exactly the same. You can choose two or three different styles that are all the same color, or you can choose the same style in a few different colors. If you have kids, consider replacing some of your chairs with a bench instead — today's varieties go way beyond that old redwood picnic bench you remember for your youth!
Professional Lighting
Now that just about everyone has embraced the importance of a kitchen lighting plan, we're seeing professional lighting design spill over into dining rooms, too. You'll want to make sure your kitchen is hardwired for chandelier or pendant lighting over the table as well as accent lighting on the walls to illuminate artwork and create a mood. It's also a good idea to add lighting to any built-in cabinets. Be sure to add a
dimmer switch so you can shift from Sunday brunch to a romantic evening whenever the mood strikes!
Creating a dining room that functions as a family gathering place and as a place to show off your hosting skills to friends doesn't have to be hard. If you're ready to dive into a remodel of your dining room, get in touch with Design Custom Homes of Madison today. We'll sit down with you to make your dining room remodeling dreams a reality!
Search
Categories
Archives