Three Rustic and Cozy Living Rooms
Wintertime in North America leaves many people yearning for warm fires, cozy blankets and hot chocolate. That can lead to dreams of comfy cabins, barns, lodges and mountain homes. The reclaimed wood, stone fireplaces and oversize furniture found in these surroundings make for a fuzzy-feeling atmosphere not worth leaving until the snow melts. Here, three rustic-style living rooms show a few ways of getting the look — and lifestyle — right.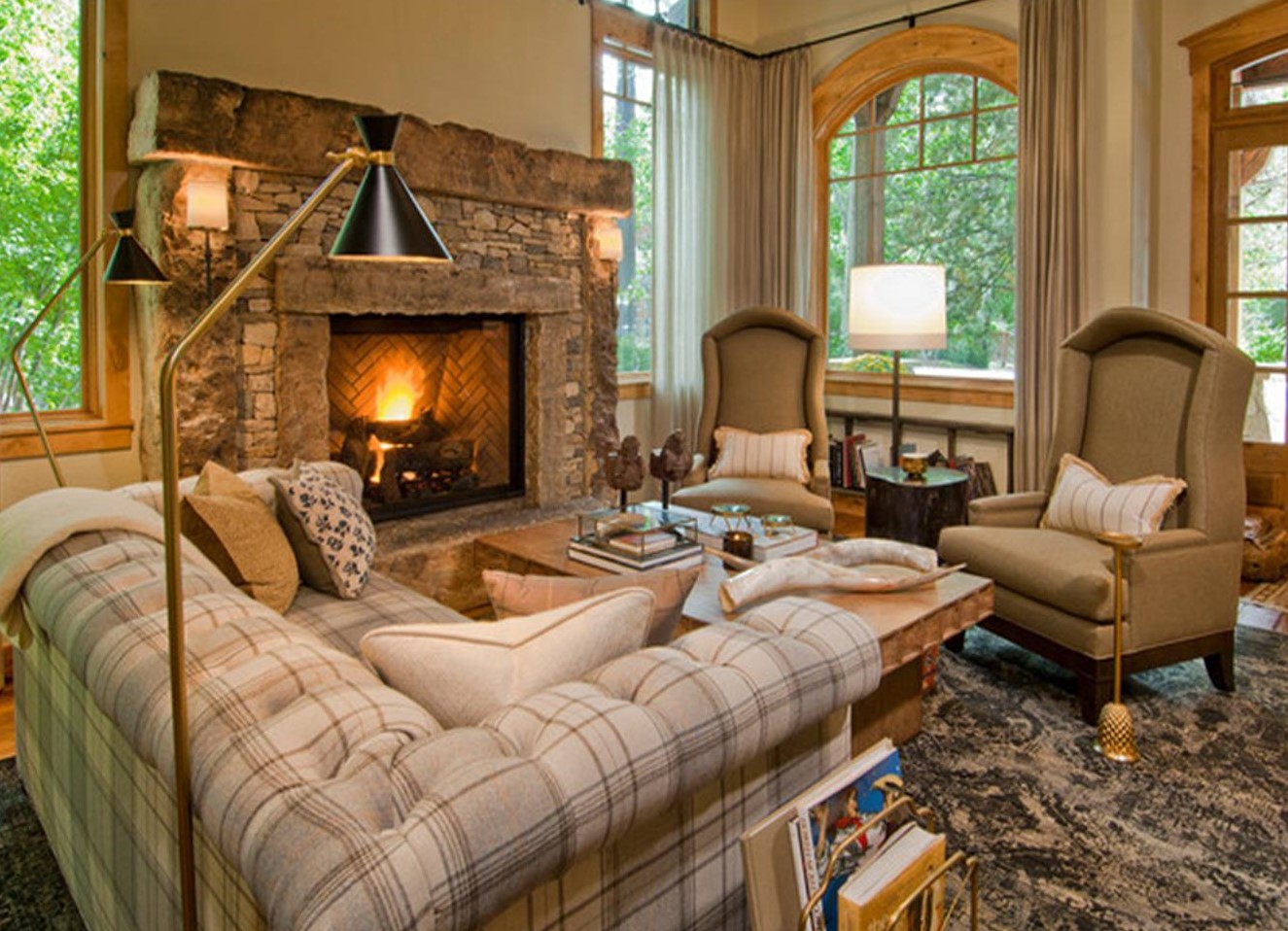 1. Cozy in Colorado
Designer: Hilary Wood of Jordan Design Studio
Location: Steamboat Springs, Colorado
Size: 221 square feet (21 square meters); 13 by 17 feet
Homeowners' request: Lighten up a mountain home that came furnished with humdrum, dark furniture and decor, and include references to the homeowners' personalities — he's a former ship captain; she loves horses.
Rustic style: Designer Hilary Wood says she wanted to avoid the mountain-town interiors cliché of "dark brown leather everything and antler chandeliers." Existing millwork sets the stage for lived-in, rustic finishes coupled with more traditional furniture lines. She doubled the size of the stone fireplace to create a more dramatic focal point. Sculptural, artistic tables lend way to luxurious, sophisticated textures (including wools, fur and embroideries) with layered patterns of plaids and stripes.
Other special features: Sheer panels; layered lighting
Rug: Floor Coverings by CPA; Kent sofa: Hickory Chair via Hoff Miller; cone floor lamps via Charles Eisen & Associates; Marta coffee table: Casa Marrón; custom ottoman and custom Canopy chairs: Lockhart Collection; petrified stump table: CAI Designs; Simple floor lamp: Barbara Barry via Visual Comfort; custom throw pillows: Red Mountain Design; Dauphine sconces on fireplace surround: Visual Comfort; custom window treatments: Ron Kehler Window Coverings; horse sculptures on table: Eron Johnson Antiques; horns: Shops @ 9th Avenue; magnifiers: Chuck Wells & Associates
Rustic Living Room by Jordan Design Studio, Ltd.
Jordan Design Studio, Ltd.
"Uh-oh" moment: "The fireplace was also most certainly our 'problem child,'" Wood says. "We had a very specific aesthetic we were aiming for, and needless to say, there were some hiccups in getting to this final result. Despite the drawings, the theme photos and the contractors' clear understanding of what we intended designwise, somehow the stonemasons ended up with a first rendition that was far from this final fireplace. And we mean far. As much as we tried to make it work, in the end, it was a no-go. It was an important design feature and the first thing you see when you walk into the home; we could not compromise the integrity of the overall design. We stood next to the contractor and client and finally made the call no one wants to make when something is already done and installed: Rip it out."
Also on the team: Gerber Berend Design Build (construction); John Robledo Foto (photography)
See more of this home
Farmhouse Living Room by JAMES V. COANE & ASSOCIATES, ARCHITECTS
JAMES V. COANE & ASSOCIATES, ARCHITECTS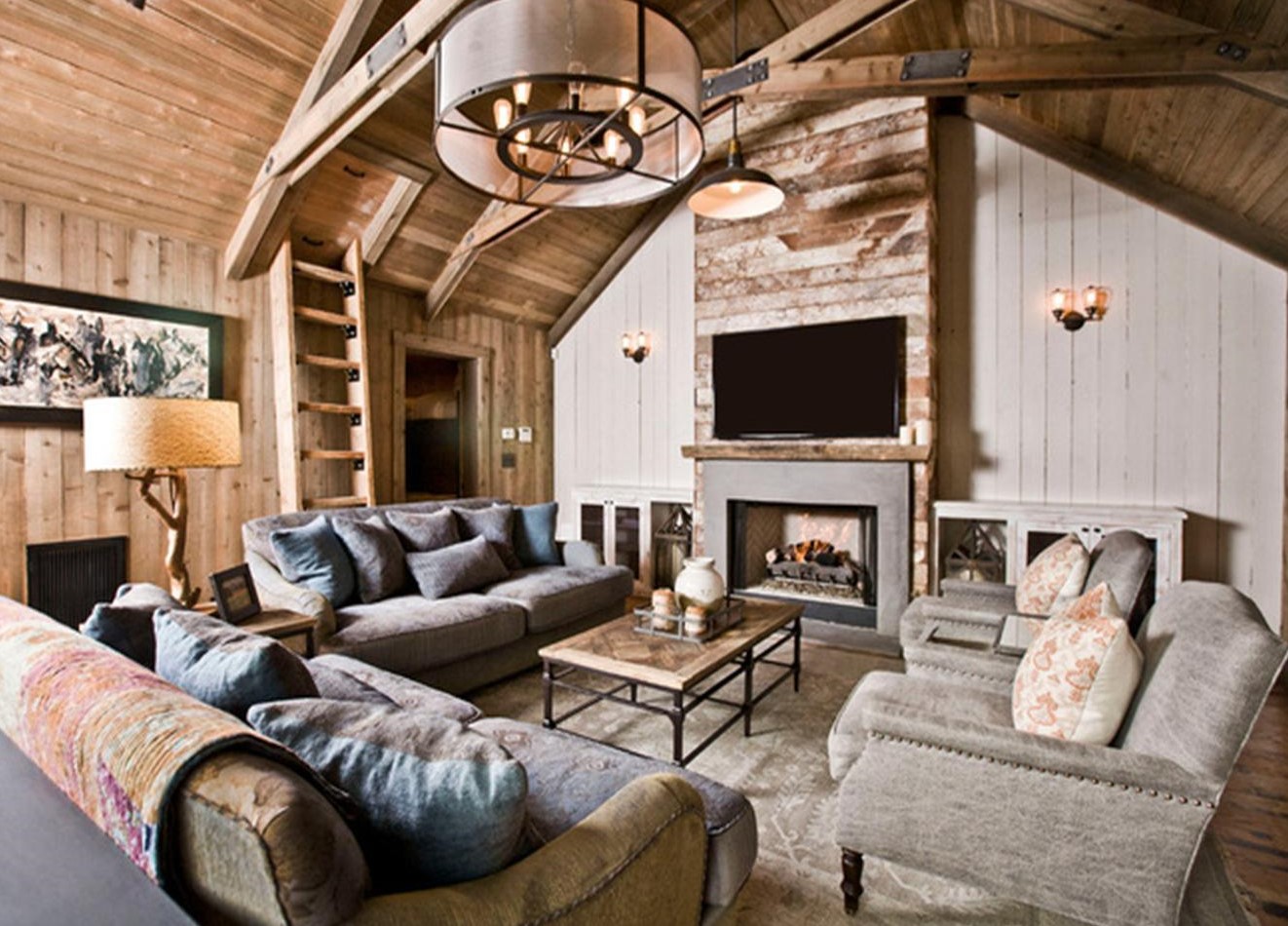 2. Comfy in California
Designer: James V. Coane of James V. Coane & Associates (architectural and interior design)
Location: Pasadena, California
Size: 400 square feet (37 square meters); 20 by 20 feet
Homeowners' request: A separate pool house and guest house for hanging out and watching sports, with a large living area, kitchen, full bathroom and bedroom that can sleep six in bunk beds
Rustic style: Cedar siding; scissor trusses; wide-plank wood floors. The barn-style atmosphere complements the 1907 Shingle-style main home. Reclaimed wood offers many textures and a warm color scheme.
Other special features: Built-in storage; cast concrete fireplace surround; vintage-industrial-style furniture and light fixtures; ladder leading to a hatch that opens to reveal a low attic space with exercise equipment
Designer secret: "Utilizing any open space is important to avoid wasted areas that can be used for extra storage, etc.," says designer James V. Coane. "So turning the attic into a secret little gym was an addition the owners didn't expect but worked out beautifully. The ladder leading up to the entry of the gym adds a nice visual touch to the living room."
"Uh-oh" moment: "After the architectural design process, building, and the picking of materials, furniture, accessories and lighting, it was time to begin installing," Coane says. "We came across the issue of having to place the light fixtures appropriately above the living space. Due to the scissor trusses, we had to strategically find a way to hide the electrical wiring to avoid it becoming an eyesore. The end results were a clean finished look."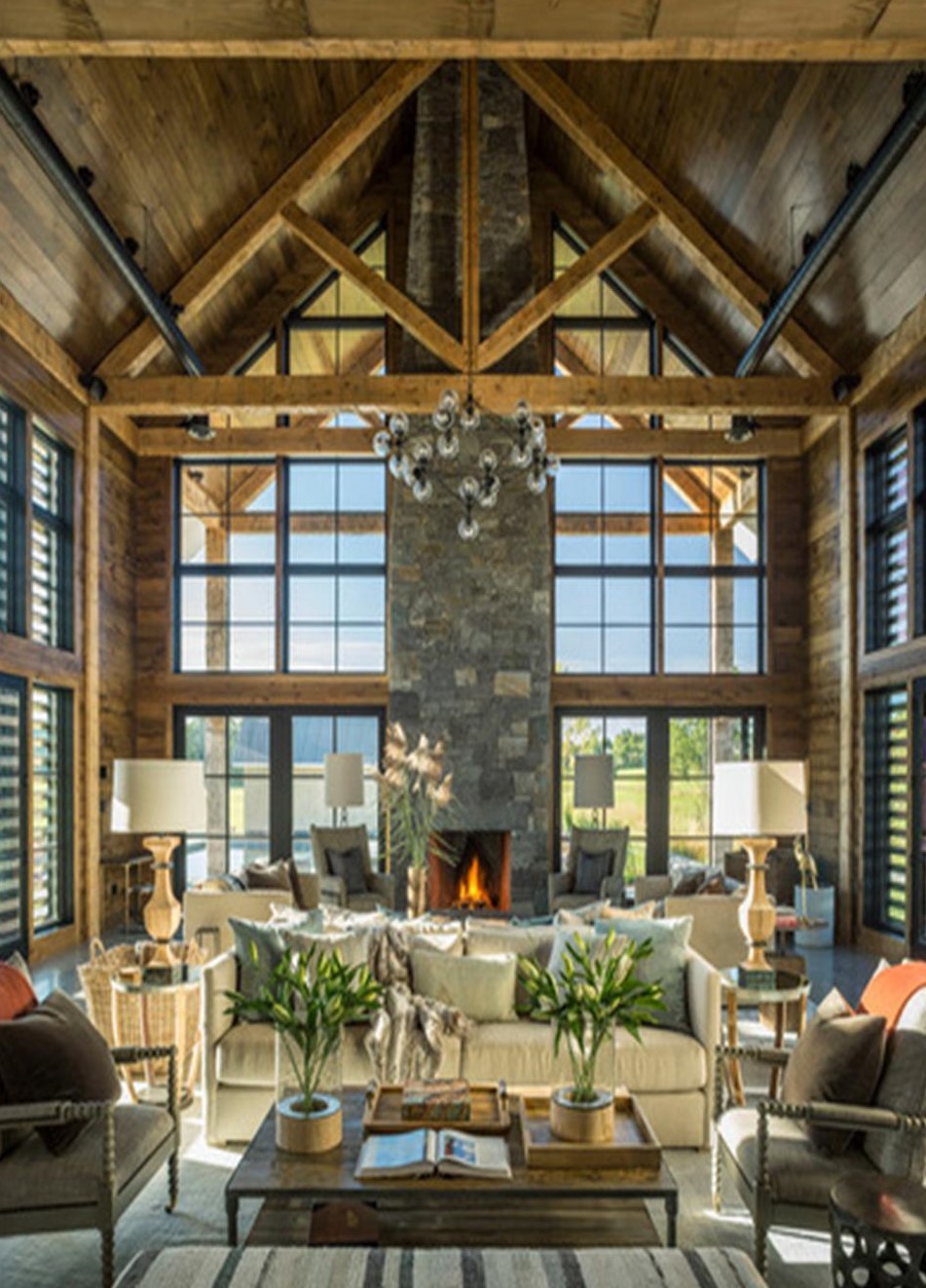 3. Toasty in Vermont
Designer: Lee Grutchfield of TruexCullins Architecture
Location: Cornwall, Vermont
Size: 1,500 square feet (139 square meters); 50 by 30 feet
Homeowners' request: A farm-size barn with exposed timber and barn boards inside and out, and large windows
Rustic style: Timber posts and beams; darkened steel railings; stone fireplace
Other special features: Polished concrete floors; exterior shutters; exposed black ductwork; inside and outside fireplaces; bar area (not shown)
Farmhouse Living Room by TruexCullins Architecture + Interior Design
TruexCullins Architecture + Interior Design
"Uh-oh" moment: "Well, the floor of the barn is polished concrete, so we had to make the decision of whether to pour the concrete floor at the beginning of the job and risk it being damaged by all the timber and fireplace work, not to mention possible exposure to frost in our northern climate — or not pour it and have to work on the bare ground," says architect Lee Grutchfield. "The choice was made to pour the concrete first and protect the slab with sheets of plywood and hope for the best. Luckily, after about a year and a half of construction, we took off the plywood and discovered that the concrete did indeed make it through largely unscathed. And with a bit of polishing, it looks fantastic."
Also on the team: Roundtree Construction; Wagner Hodgson (landscape architecture); Lillian August Interior Design; Artisan Engineering (structural engineering); Bellwether Craftsmen (timber framing); J.W. & D.E. Ryan (mechanical and heating); Jim Westphalen (photography); Matt Parisi Masonry; James Bennet Masonry.
Houzz Editorial Staff. Home design journalist writing about cool spaces, innovative trends, breaking news, industry analysis and humor.
Search
Categories
Archives