Bathrooms – They are either one of our favorite parts of our home or the room we like the least. The question to ask when we hate our bathroom is how to make it into a room we love. Here are a few tips on getting started with your bathroom remodel.
Start with Usage
Make two lists. One should be all about what you love or what works well. The other should be all about what is wrong, what does not work well, and what you dislike the most.
From both of those lists you will find opportunities. For example:
I love the light in my bathroom.

My bathroom seems too small.
You can combine these two statements to create a goal. I love the light in my bathroom, but the room is too small. Solutions:
Custom glass showers help to free up space and remove walls that makes the room look smaller. The glass wall also allows you to show off decorative tile and
helps the room seems larger.

Get Creative with Storage — a narrower vanity with wall-mounted cabinets helps to add more physical space without removing storage options.

Expand Your Bathroom. There are plenty of ways to expand your bathroom either by knocking out a wall and building an expansion or by raising the ceiling. You can even take out a window and replace it with a sliding glass door that opens up to an outdoor living space that is both private and relaxing.
Build a Home Spa
A bathroom has the ability to rejuvenate and enhance our quality of life. If you want to create a bathroom that is your own personal spa, then do it. Add in those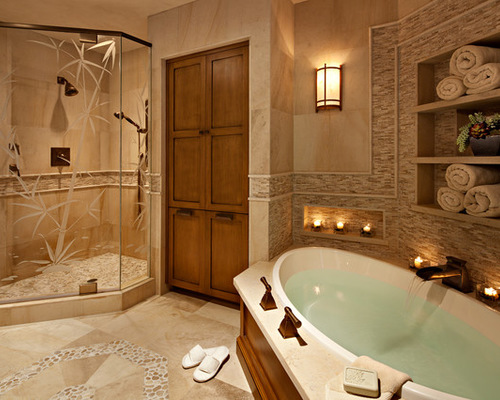 features that you love. Consider a quality marble spa tub and a sauna. Add a padded sitting space with good light for pedicures and manicures. Early we mentioned replacing a window with a slider that can easily lead to a hot tub. The possibilities are endless and the rewards are worth it.
Finding Solutions
Design solutions are often a mixture of things that you love and things that you dislike. You can emphasize one and diminish the other. At Design Custom Homes, our design team helps you solve problems both as you design your new custom home and when it is time to renovate an existing home that you havev purchased.
Design is a powerful tool that looks at end-usage and the existing benefits of what your have. From there they expand the good and remove the negative and the result is a custom bathroom that not only fits your needs, but enhances your living experience.
If you have a bathroom remodel project and you like professional solutions that help improve the quality of living every day, then reach out to us. We not only design custom homes, but we handle renovations too.
Search
Categories
Archives