Designing a Mud or Laundry Room
The mud and laundry room is becoming more important to the overall function of modern homes, with design that's no longer just an afterthought. We've been seeing a trend for several years now, as the mud and laundry room ups its status. No doubt, it's on the duller side of design coverage, but when you've got to put pencil to paper (or mouse click to screen) it's helpful to have guidelines, drawings, specs, and photos of the real deal—even if it's just the laundry room. While often dismissed as mere service space, we'd like to point out that these rooms are only ugly when architects don't design them thoughtfully.
The primary design factor of most mud & laundry rooms is children. If the homeowners don't have kids (or if the kiddos have grown up and moved out) the space can be streamlined and minimal. However, if children are in the picture, the space takes the full range of tasks such as drop sort, locker room (for losing the dirty sports gear before entering the house), gear storage, sorting, washing, and keeping the dirt confined. For a young family, the mud & laundry room might just be the hardest working room in the house. And for all that, it gets very little credit (until now).
Today's post reviews three different scenarios and spells out all the details about the design and construction of mud & laundry rooms. Enjoy and, you know, don't track any dirt in the house.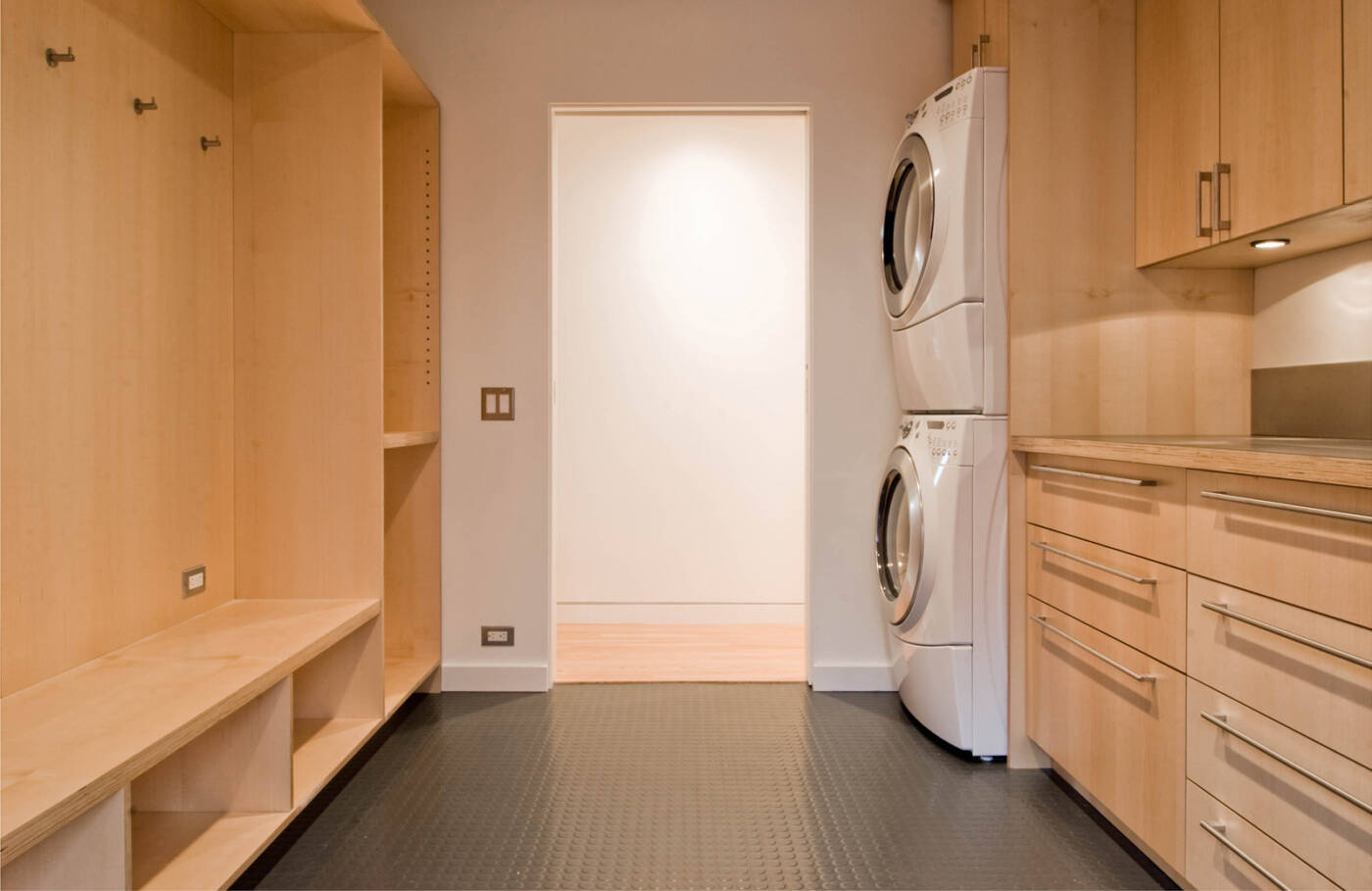 The Innis Arden Remodel offers a great example of the mud & laundry room that does it all. A simple 9′ x 11′ room that includes a wall to wall bank of open cubby-style cabinets to tackle the sports gear needs of two boys as well as coats, shoes, and the household cleaning equipment (vacuum, brooms, etc.).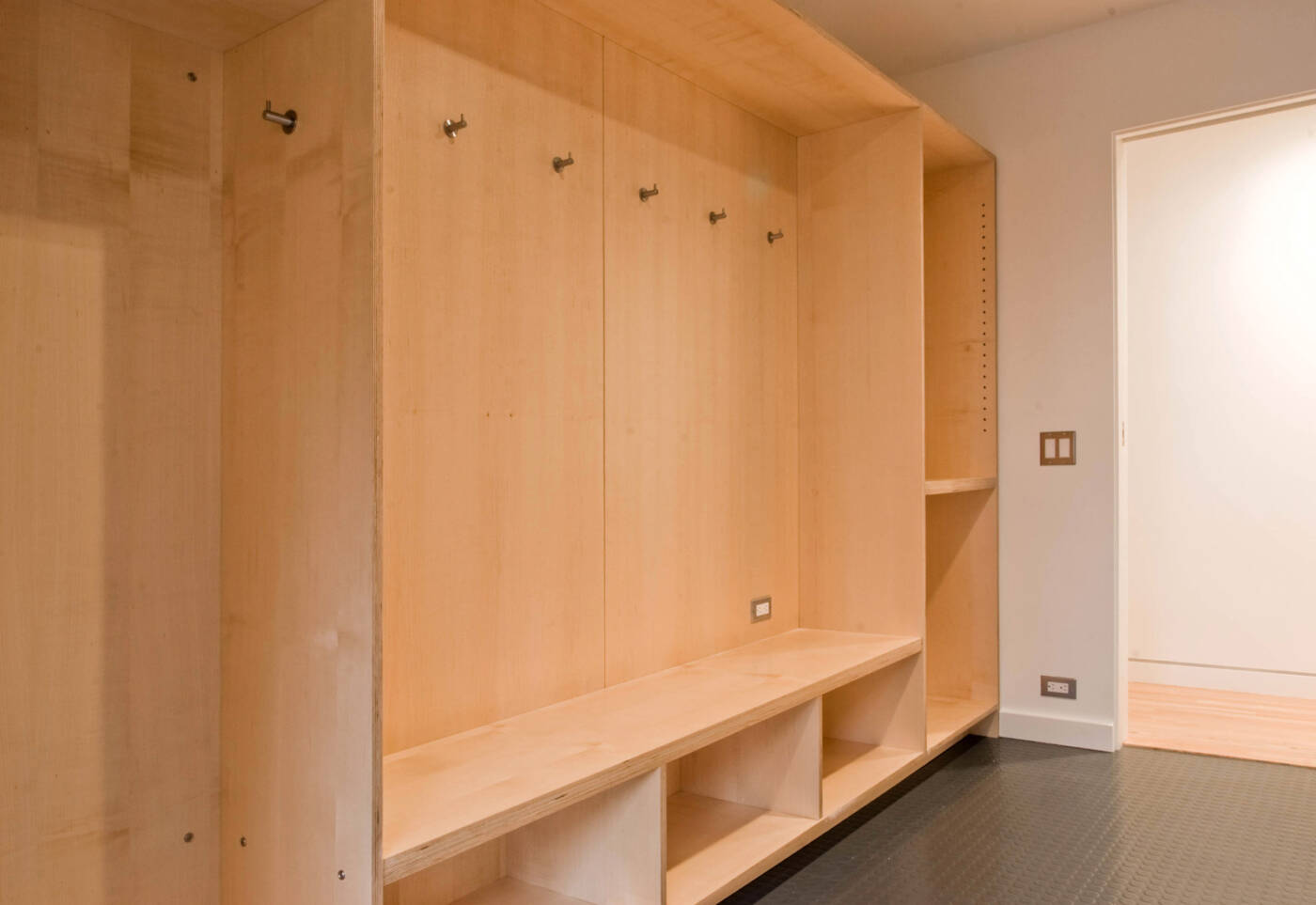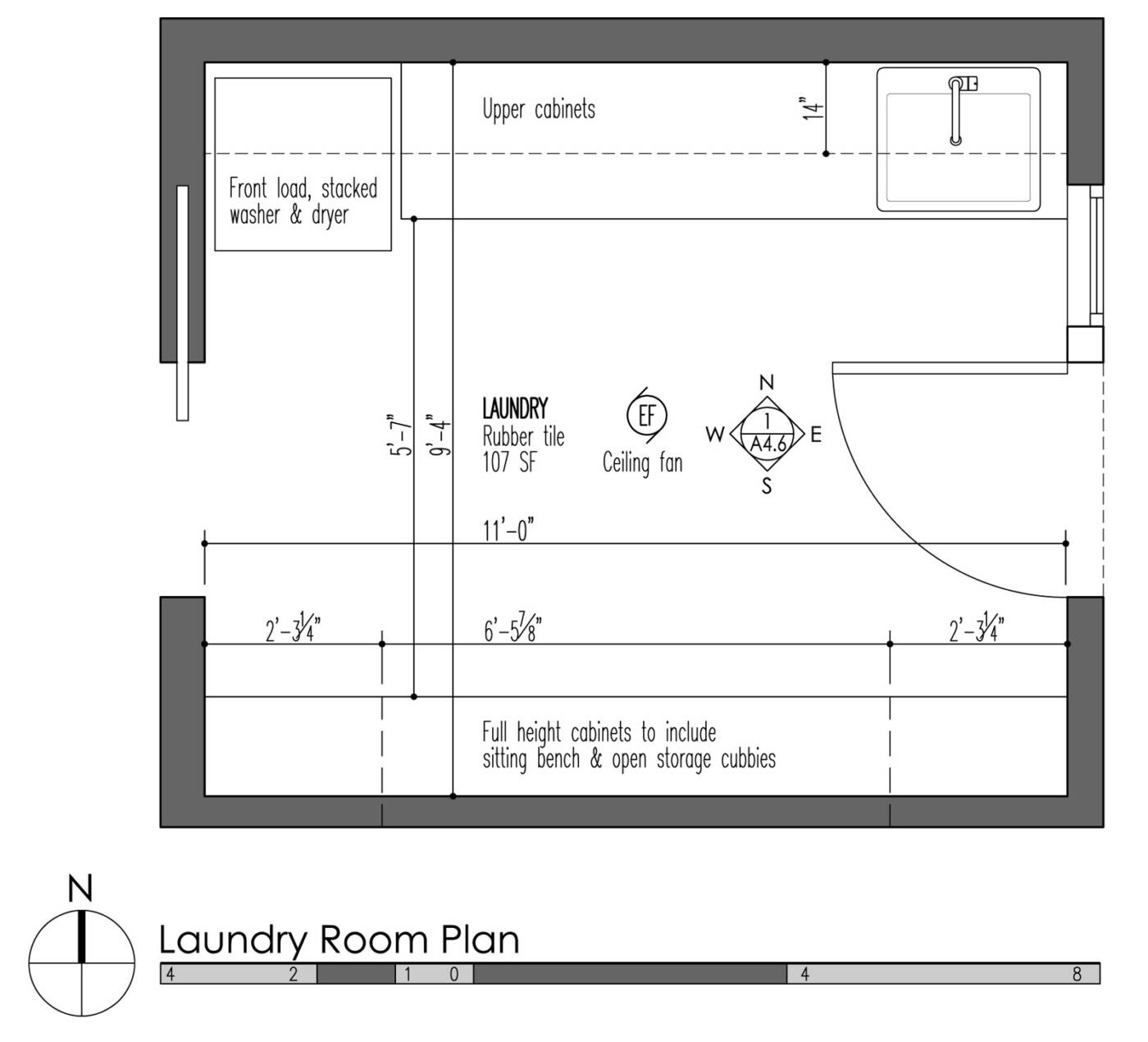 On the opposite side of the room are wall to wall cabinets with door and drawer faces that house the washer, dryer, sink, and household storage in addition to providing plenty of countertop space.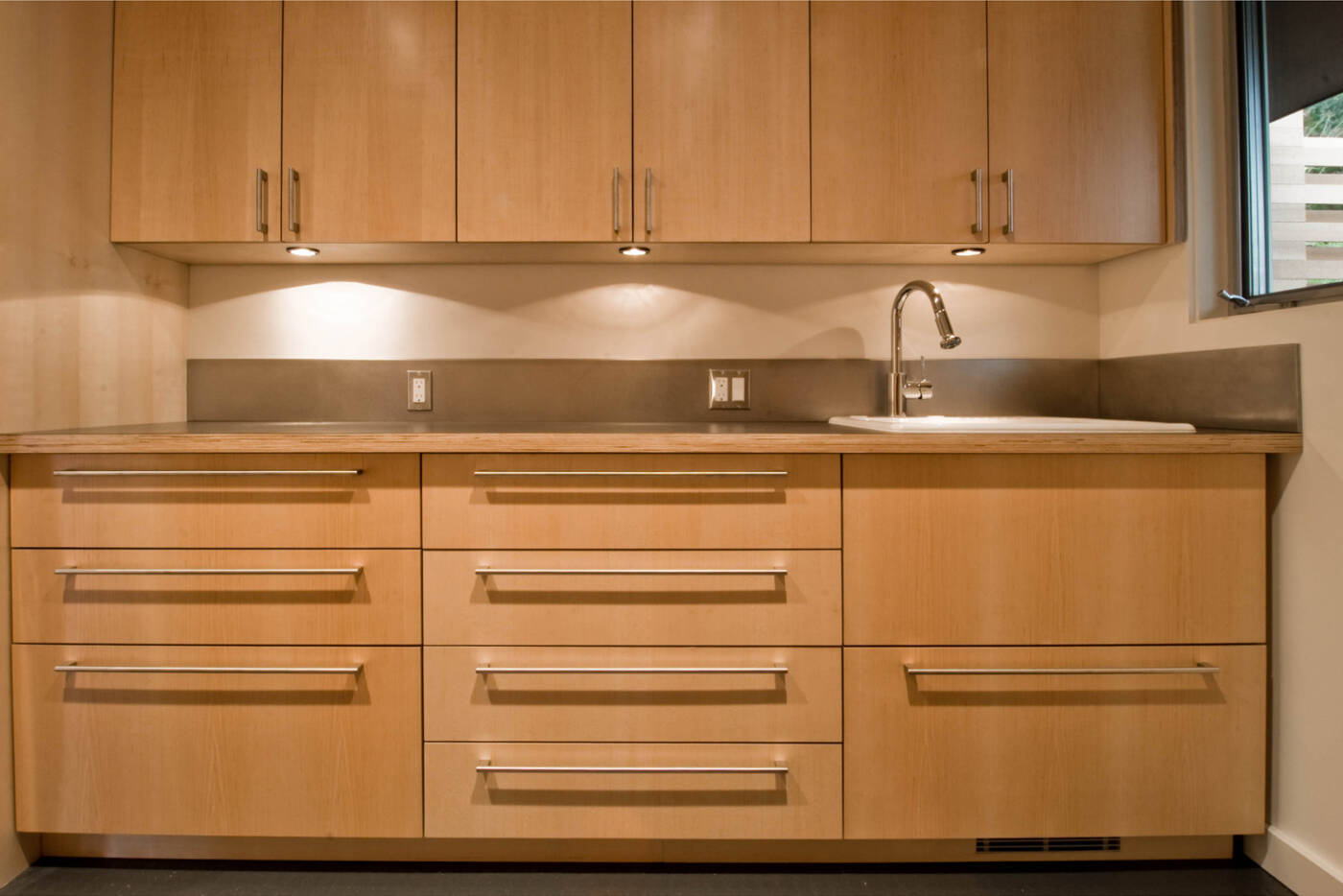 Because the cabinets at a mud & laundry room need to take a bit more abuse, we used an apple-ply with exposed edges. The highly durable and easily cleanable rubber floor is T-106 from Commercial Interiors. (Roppe also makes a good product for this application.)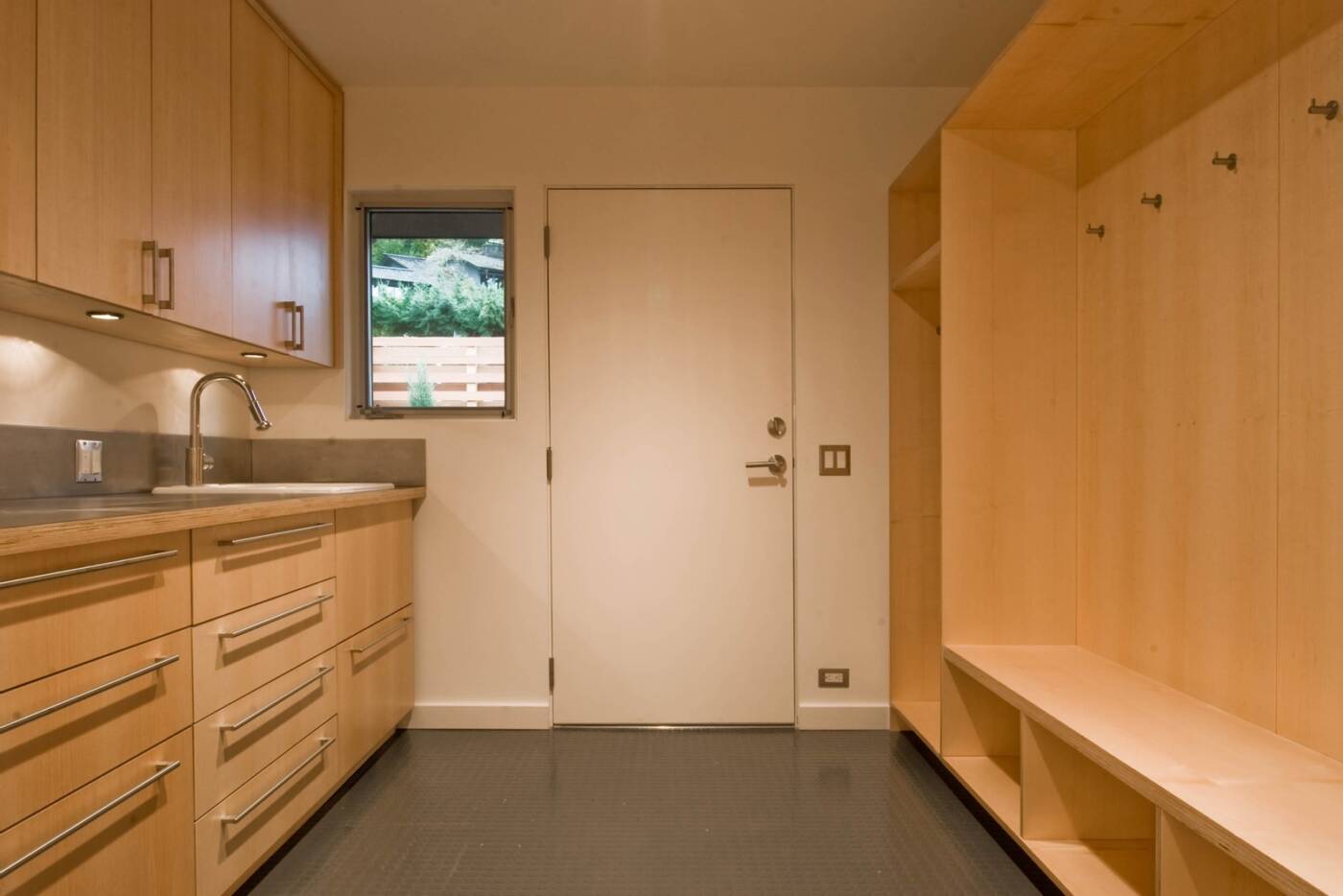 A more simplified version of the laundry & mud room can be found in the Magnolia Residence. A simple 11′-4″ line of cabinets is constructed of gray Nevamar laminate on Europly. Once again, we expose the edges so that the cabinets don't become too precious (plus we dig the look of the exposed laminations of the Europly).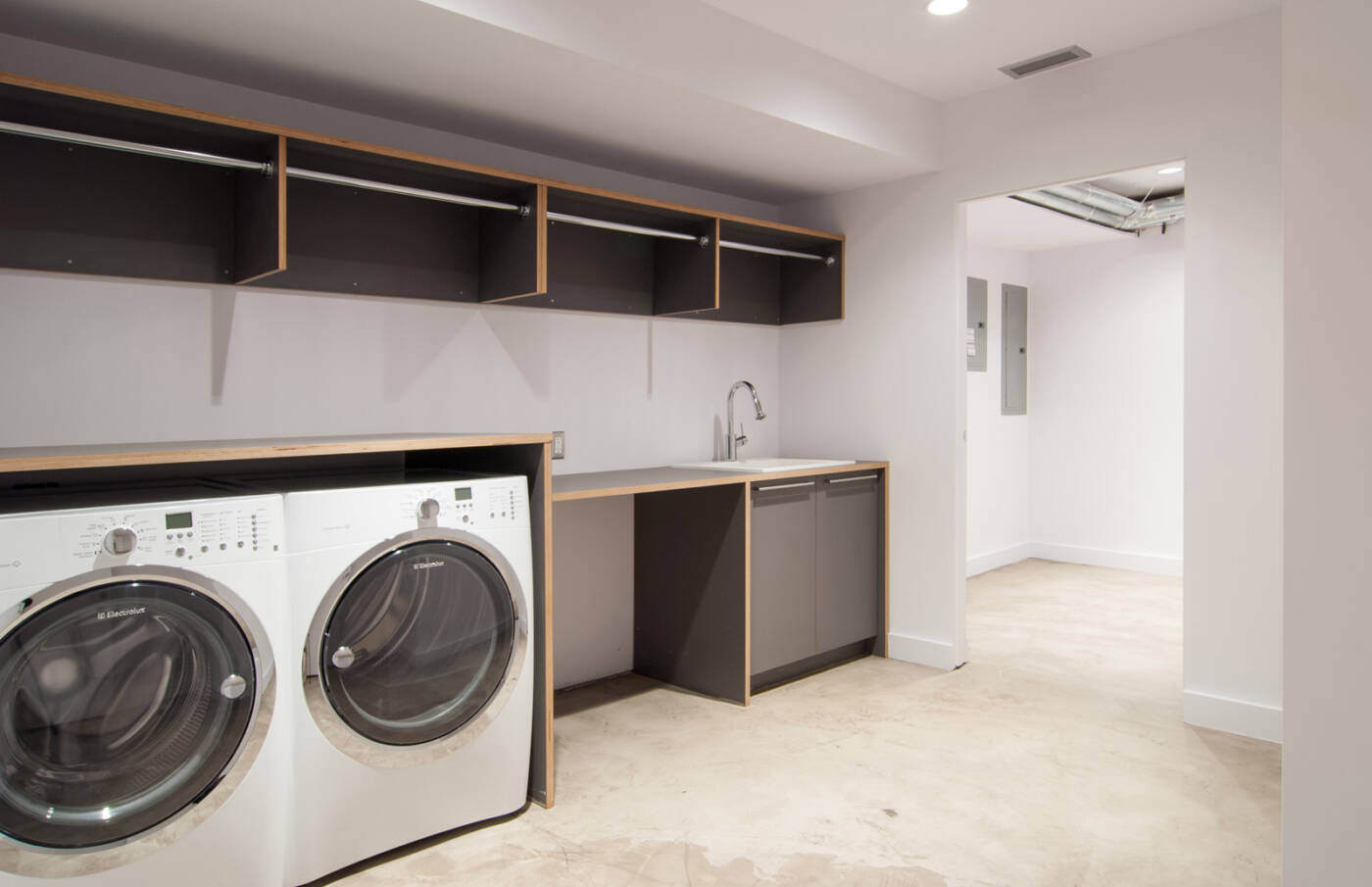 The floor is a concrete topping which is as durable as a floor can get. The application is cost effective and because the product is self-leveling, gravity takes care of any irregularities with the slab on grade below. Walls are painted with an eggshell acrylic to handle the additional moisture.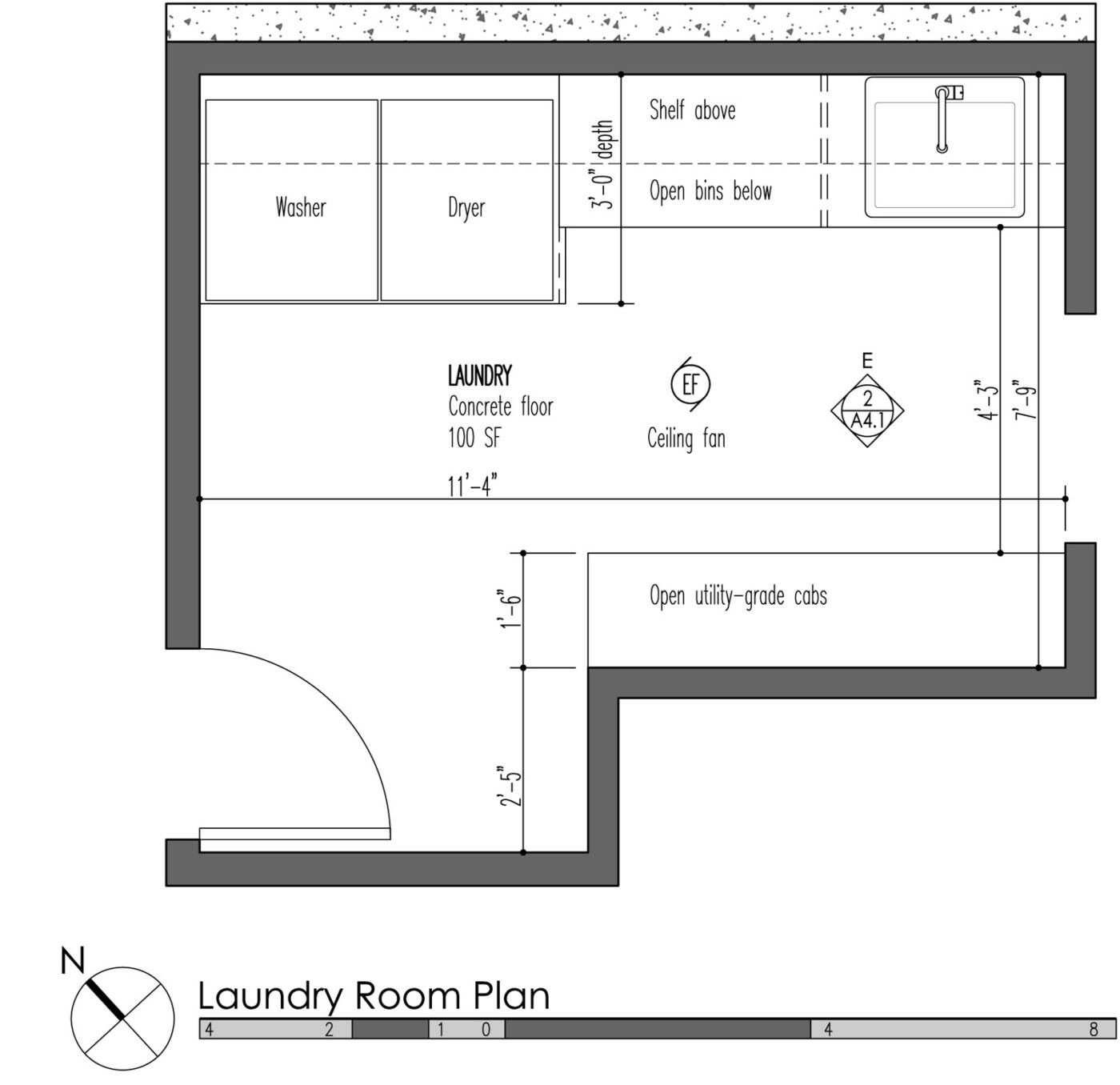 A single cabinet bay is faced with gray laminate doors to match the cabinets, the remaining cabinets are open cubby-style. The continuous line of upper offer four bays of hanging rods.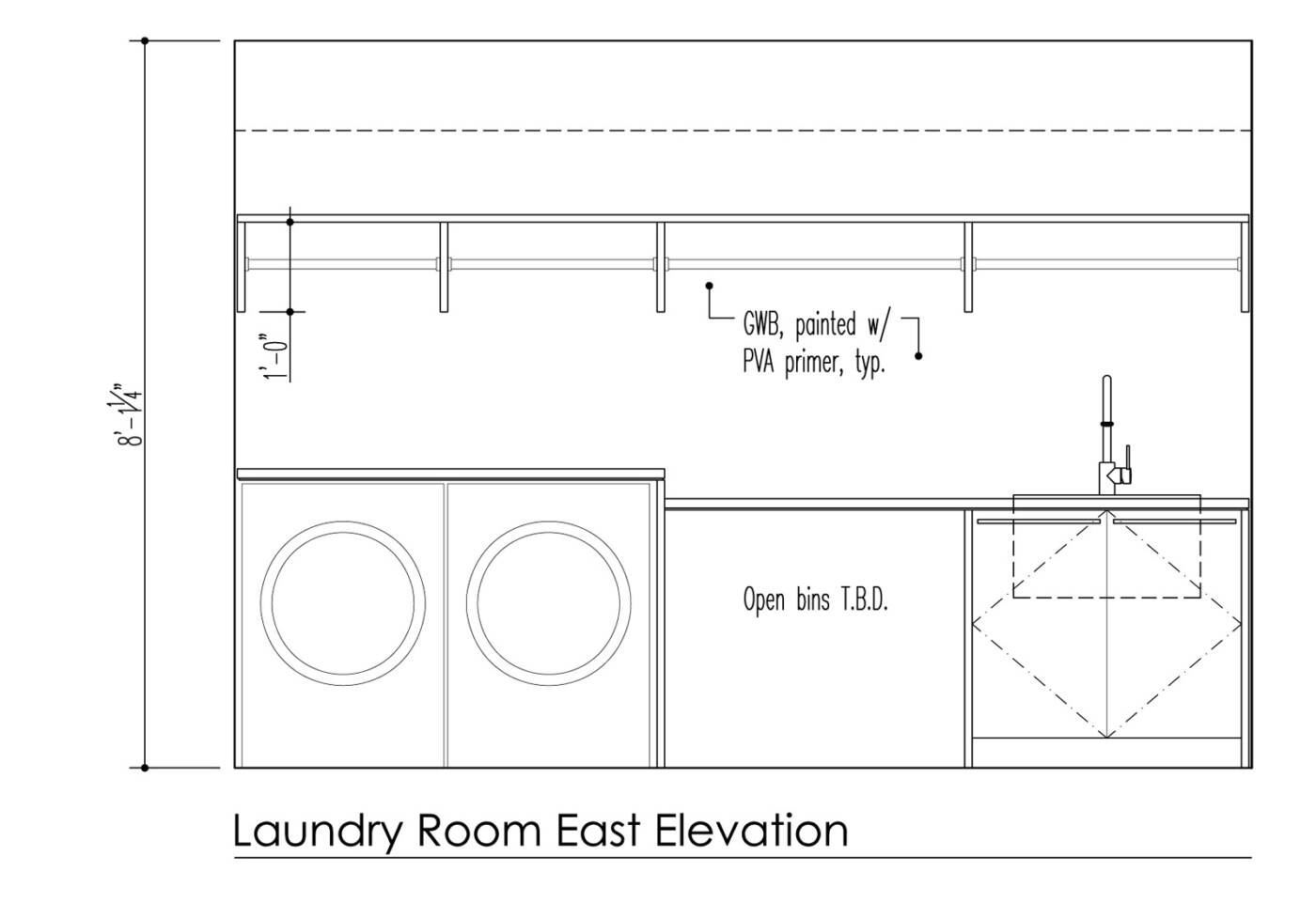 Simpler still, is an installation at the Kirsch Residence which uses a single lower cabinet box with accommodations for a future washer and dryer (the primary washer & dryer are upstairs near the bedrooms).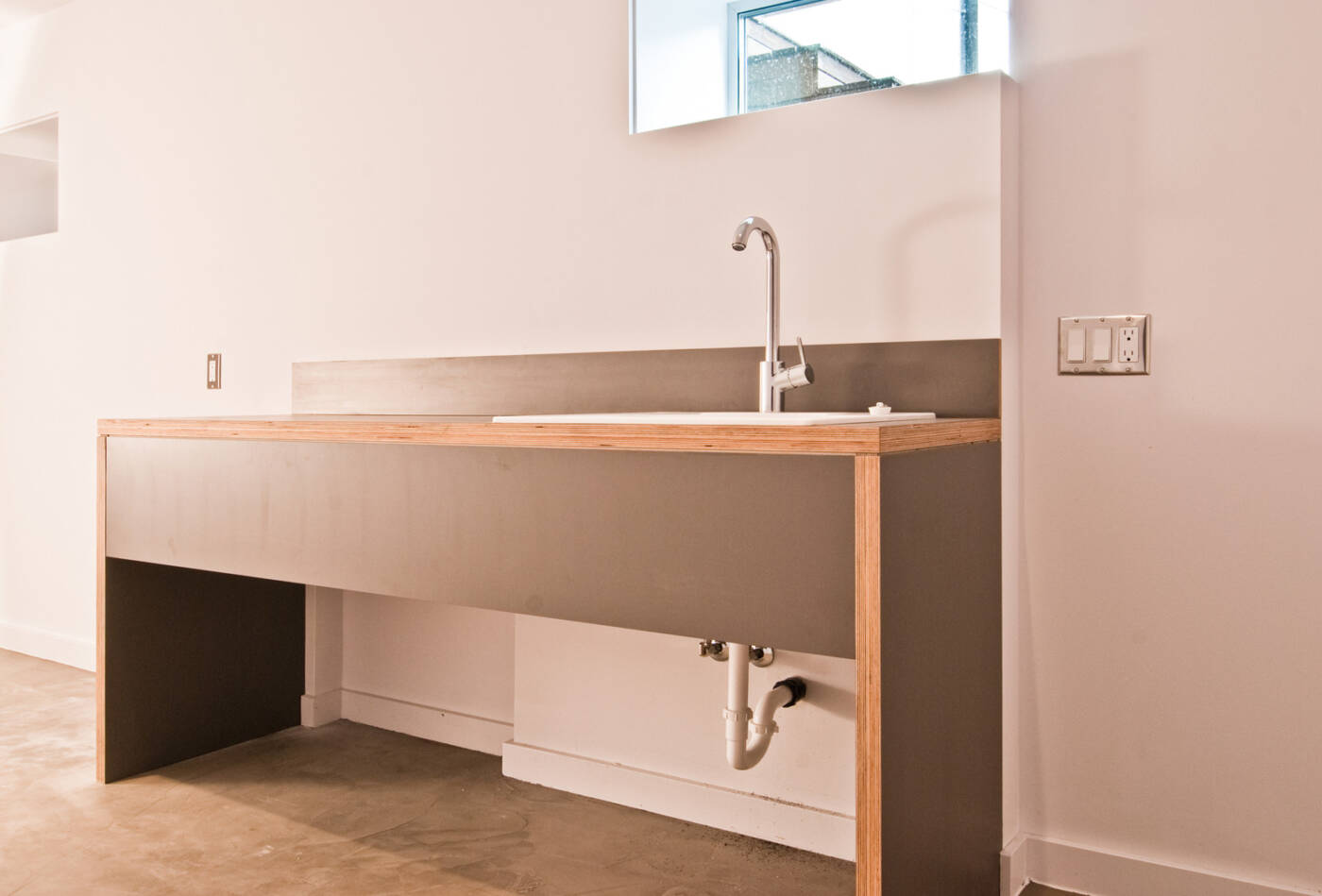 Gray Nevamar laminate on Europly, once again, play the lead role for materials, while a concrete slab keeps the space nearly maintenance free.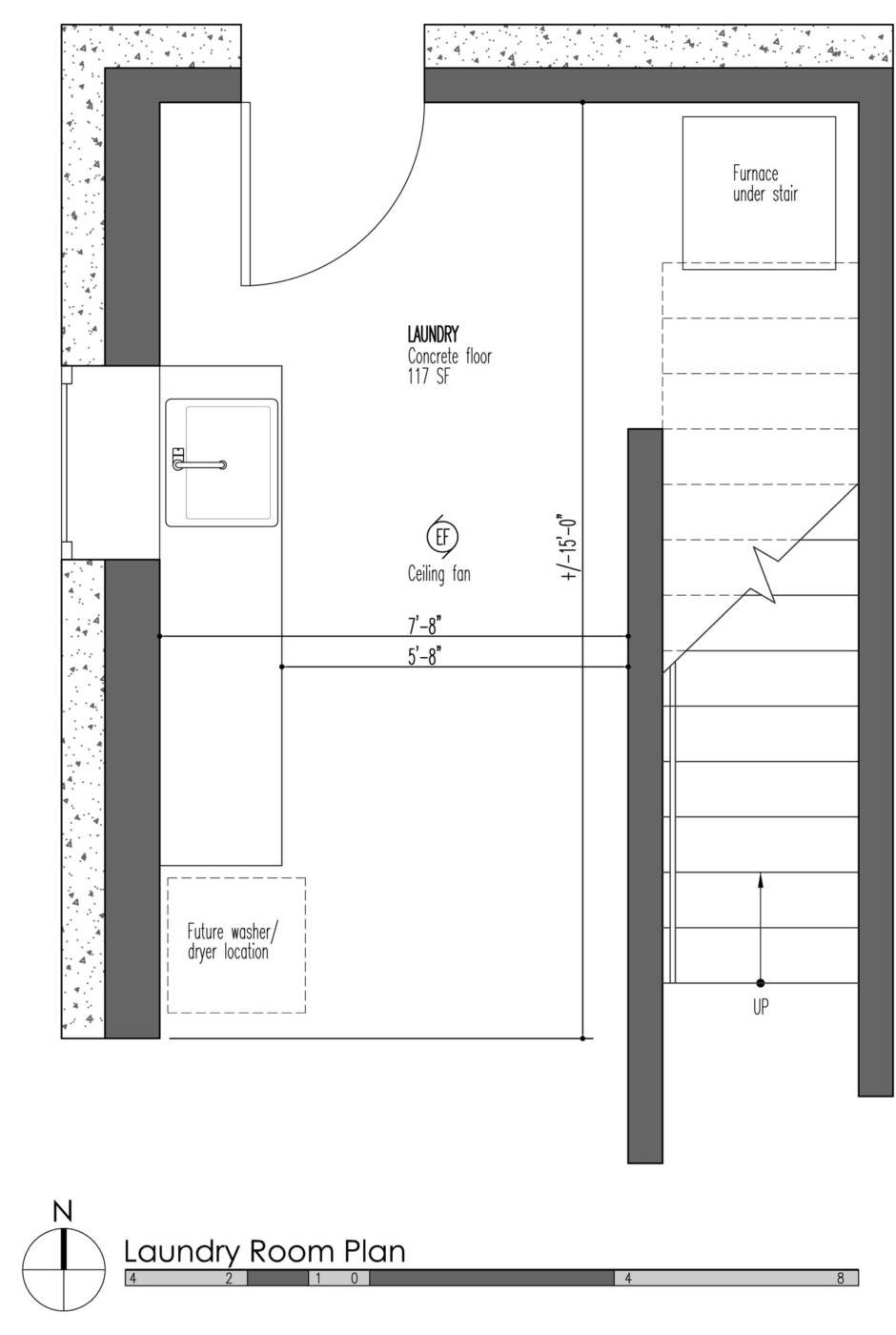 Regardless of the complexity (or simplicity) of the mud & laundry room, a handful of specifications are applicable. Here are the ones we like to use:
APPLIANCES
Washer: Electrolux EIFLW55HIW front load
Dryer: Electrolux EIGD55HIW front load gas dryer
W&D stacking kit: STACKIT4X
W&D optional pedestals: EPWD15IW
Washing machine supply: JPS Corp. T200 Supply and drain box
PLUMBING FIXTURES
Deck mount sink: Mustee 10 Durastone utility sink in white
Free standing sink: Mustee makes a variety of free-standing sink options
Faucet: Hansgrohe 04286000 Talis S single hole Prep Faucet with spray pull-out in polished chrome
HARDWARE
Hanging rods: Epco 895 1-5/16″ diameter rod in polished chrome w/ 861 series closed flanges each end
Coat hooks: Sugatsune DSH-01 stainless steel hook
There you have it, our guide to mud & laundry room design.
Cheers from Team BUILD
Kevin Eckert, founding partner of Build LLC, writes Build Blog, which can be seen on Custom Home's website on occasional Fridays.
Search
Categories
Archives