Outdoor Living Essentials – Making Your House a Home
Growing up, the outdoors was just the yard, a place to be confined to when grounded or the site where a long list of chores would unfold seemingly every weekend. A lot has changed and the yard is now a place to escape to rather than a confining space. We call it "outdoor living" and with good reason. The outdoors is now a place to expand the house by adding wall-less rooms and resort-worthy spaces that help us to improve the quality of our home lives. 
The Must-haves in Outdoor Living
So, what are the essential components in quality outdoor living spaces? There is no one-size-fits-all list but there are a few things that top most lists. Those include:
Sheltered Areas 
There was a time when all you needed was a few bricks and stone pavers. Today, people are creating spaces they enjoy and that means sheltered patios and deck areas which not only offer shade but also protection from the wind and other environmental negatives, such as mosquitoes and biting flies.
Quality Furniture
Gone are the rickety folding camp chairs and in their place are beautiful and comfortable outdoor sets including couches, loveseats, and tables all made from  beautiful m aterials and for the purpose of enhancing your outdoor living space. Stores like  Home Depot or Ashley Furniture are great places to look as they have a really good selection of outdoor furniture and accessories.  However, if you like shopping online then WayFair is another fantastic option.
Ambiance
Why have just a pool when you can recreate that outdoor area from your favorite hotel you enjoyed on vacation. That's right, pools, tubs, outdoor showers, fire pits, fireplaces, and everything else you need to create an ideal living space. 
Lifestyle
Along with creating the perfect living space is the idea that you can construct a space that matches your lifestyle and that includes full entertainment. Take your outdoor living space beyond the simple strand of lights on the patio and merge your indoor entertainment with outdoor living. This includes full HD TV, audio, games, and a ton of other amenities that not only help you enjoy your outdoor space but also help you to impress and delight your guests.
The Sum of the Parts 
So the essential outdoor living list includes: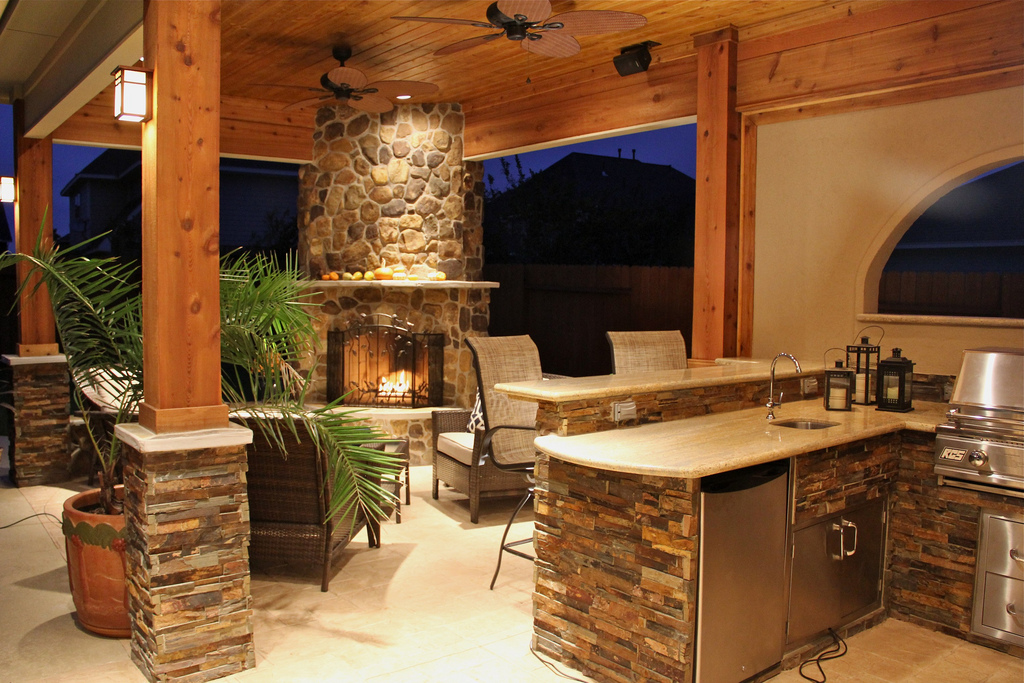 Areas that are protected and usable year round

Help you to create a mood or environment

Make coming home from work akin to being on vacation

Taps into your lifestyle so that you are fully entertained whether mowing the lawn or throwing a party. 
The key to creating the perfect outdoor living space is to take a close look at how you live your life – the things you love and the things you don't like so much. Creating an outdoor living area is an opportunity to enhance the positive and change the negatives so that every single time you come home, you are living a life that you love. At Design Custom Homes, we help you do just that. 
photo credits:  flickr/ midwestlawnandlandscape /texas custom patios
Search
Categories
Archives