Designing with Reclaimed Wood
Reclaimed wood is a remarkable design tool that is both eco-friendly and intriguing. Reclaimed lumber has three big positives. First, there is the historical factor – this is wood with a story and that story adds interest to the piece. Second, barn wood is often old-growth and that means you cannot duplicate in freshly milled lumber. There is a difference between old growth and new "growth" and that difference helps you add a unique and beautiful design element to your home. Third, this is a highly beneficial and eco-friendly product. By using reclaimed wood you are saving current forests for future generations and upcycling lumber that still has a lot of life left in it.
The Story behind Reclaimed Wood
Reclaimed wood comes from old buildings, especially barns. As the population of the original colonies expanded westward under the Homestead Act, small towns and farms sprung up across the countryside. There were few roads, if any, and fewer supplies. People built using the materials that were local and as they did they harvested the local timber and from those trees, they created barns, homes, and towns. Today, many of those structures are falling down from disrepair or need to be removed to make way for modern buildings. Yet, some of the lumber in those old buildings are still usable and Design Custom Homes has collaberated with Beam and Board to offer our clients access to one of the largest collections of reclaimed wood in the Midwest.
Reclaimed wood comes in many forms from fir and pine, to redwood and hardwoods such as oak and walnut. There is a vast color selection that is equaled by the selection of texture and imperfections (rustic charm) across all reclaimed lumber.
How To Use Reclaimed Lumber in Design
The beauty of reclaimed lumber is that it is not perfect. In fact it is its rustic imperfection that makes it beautiful. It offers some beautiful options from an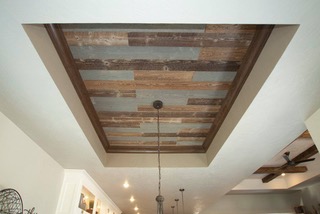 exquisite ceiling and beautiful floors to unique and gorgeous mantels and fireplace facing and even includes options for full walls. The options are vast.
​​Reclaimed wood for ceilings – Bare wood ceilings constructed using barn wood are a thing of beauty. Barn wood offers unique and beautiful options for creating ceilings that help to improve energy efficiency, decrease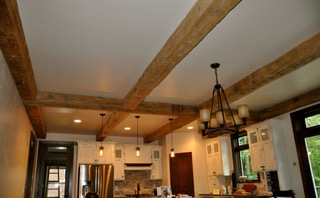 sound pollution, and provide a richness that exudes luxe. You gain texture, grain, and beauty that cannot be matched in modern lumber.
Reclaimed wood for Floors – There are many options for wood floors but none match the exotic and familiar vibe that a floor from barn wood. The reason for this is that old wood offers beautiful graining that you do not see in new lumber. add in the character flaws and you have a floor that feels as though you've lived here for a while. It is a secret ingredient that helps make a house feel like a home.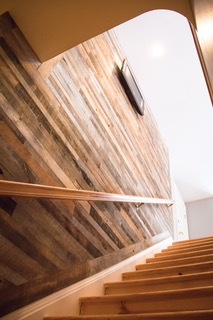 ​Accent Walls – It is easy to picture a single wall in a formal dining room faced using reclaimed lumber. The rich historical aspects of reclaimed wood create a panorama of warmth and beauty without distracting from the table, food, and atmosphere.
Mantels and Fireplace Facings – create stunning mantels from reclaimed beams and planking and show off those unique pieces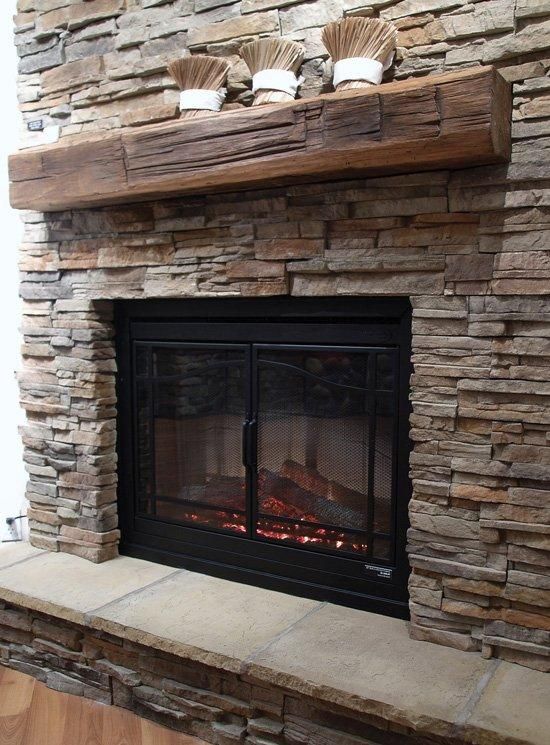 by enhancing their beauty with wall facades made from similar wood. Think about the richness of old-growth lumber and the beautiful and interesting focal points that it can create in a living room, bedroom, or family room.
Reclaimed wood – Barn wood – has a story and that story is not yet finished. Take the floor from an old hotel – who walked here? Add that intrigue to your home and you not only continue that story, but you add to it too. Reach out to the Design Custom Home design team for more insight into using barn wood to add luxury and charm to your custom home.
Search
Categories
Archives