6 Reasons To Consider Building an Outdoor Kitchen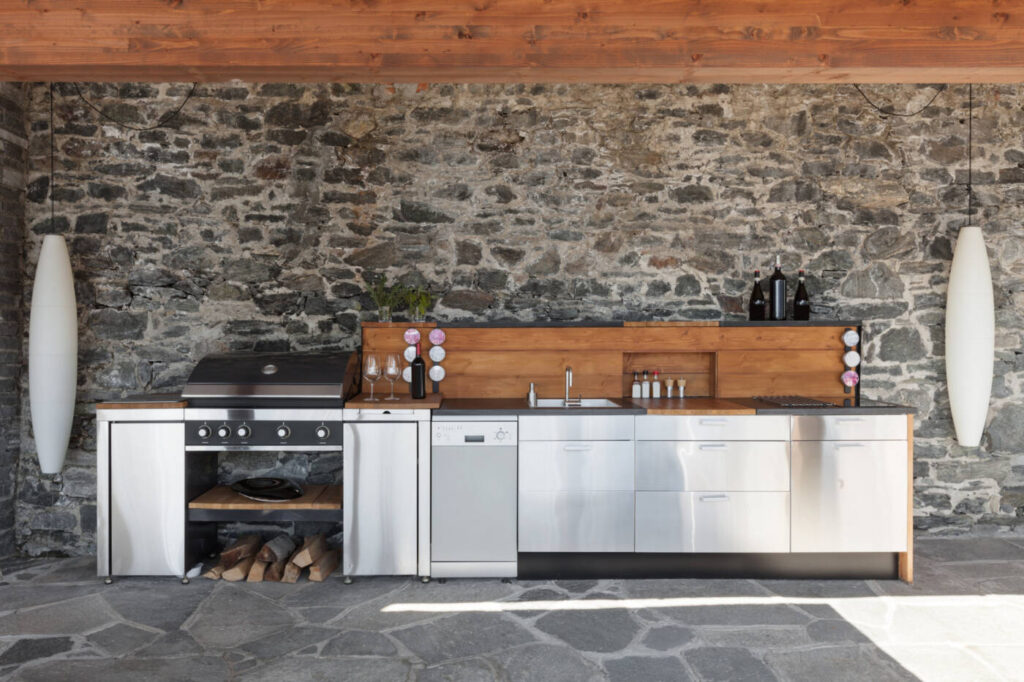 Imagine this: you wake up in the morning and walk to your custom outdoor kitchen where you whip up a delicious breakfast, a smoothie, and some other accouterments to start your day with a bang! Not only did you not disturb any of the other members of your family with the noise, but you also kept the smells and smoke from your cooking away from the interior decor.
Voila! This scenario doesn't have to be a dream anymore. You can start building an outdoor kitchen in your home today!
Read on to see 6 reasons why an outdoor kitchen is the best way to go.
1. No Need to Worry About Smells, Smoke, or Other Pollutants
Are you the kind of cook who loves to add myriad spices and herbs to your cooking? Do you think a meal isn't complete if it doesn't have at least 10 different spices in it, chili powder included?
Well, if you are going to be cooking such an elaborate and spice-filled meal indoors, that spice and smell are going to suffuse every part of your interior decor. Your curtains, armchairs, and clothes are going to start smelling like spices. Even with a high-strength exhaust, it's hard to eliminate the smell of spices from your indoor kitchen and living space.
If you like eating spices, but not smelling like them, then consider building an outdoor kitchen. This way your spicy food will not inundate your interior decor with weird smells.
In addition, cooking also releases many indoor pollutants which are bad for your health. Why not avoid that completely by cooking all your meals outdoors from now on?
2. Your Cooling Bills Will Not Suffer
When you are cooking indoors, there's a big chance that your turned-on stove will increase the temperature of your home. The more you cook in the summertime, the worse your cooling bills will start looking.
If you wish to save on your energy bills, then consider some outdoor kitchen ideas and get building. This way you can keep your indoor temperature as cool as you want, and you can whip up as many delicious meals as you want outdoors without worrying about your monthly budget.
3. You Can Extend Your Living Area and Indoor Living Space
Many homes tend to have a living area cum kitchen arrangement with an open concept style. This means that your indoor kitchen is taking up valuable living area space, that could be used for something else.
If you wish that you had more living space indoors and outdoors, building an outdoor kitchen will help with that. Not only can you have more space to hang out indoors, but you can transfer all cooking, eating, and entertaining activities outdoors.
4. It Is Easier To Entertain and Cook for Big Crowds Using an Outdoor Bbq Kitchen
If you wish you could entertain bigger crowds more often, but not worry so much about cleaning up after, then consider building an outdoor BBQ kitchen. This way you can have big cookouts with delicious portions of lamb, pork, and beef, and you don't have to worry about curious footsteps ruining or trampling all over your precious interior.
You can put some patio furniture out in your backyard with your outdoor kitchen island or table, and people can hang out, chat, socialize, and watch the chef cooking all at once! This way the chef doesn't have to feel lonesome as they cook in the kitchen while everyone hangs out in the backyard having fun. It can bring people closer to each other easier and better.
5. Have Several Cooks at Once Making Cooking Faster and Easier
Also, with an outdoor kitchen, you are not limited by space as much. You can have space enough for two or three or more people to cook all at once. In an indoor kitchen, you will notice you are always bumping into each other, especially if there are more than 2 people in your kitchen.
With an outdoor kitchen, the more cooks you have, the merrier it is. This also means you save on time, as you can have several people working on one meal together. Why not get the whole family involved and make a family event or activity out of it?
6. You Can Increase Your Home's Value
Can you imagine putting on your real estate listing that you have an outdoor kitchen with a pizza oven or a wood-fired stove? That would entice more buyers your way in a jiffy.
Outdoor kitchens are becoming more popular all over the world, and this is because people are more interested in hanging out in their homes and cooking for their loved ones and friends, rather than going out for a meal.
If you are interested in cutting down on your food costs monthly, then cooking at home in your custom outdoor kitchen is a great way to do that. Also, eating at home is much healthier for you than eating out at fast-food restaurants that pump up the grease, fat, and salt level in their foods to make them tastier.
Get Your Custom Outdoor Kitchen Designed Today
Do you have a lot of outdoor kitchen designs running through your mind right now? Don't wait – jot them all down and then chat with Design Custom Homes of Madison to get your dream outdoor kitchen into reality.
Age doesn't matter when it comes to building your custom home or ideal kitchen. All that matters is you have a dream and you know what your budget is. We are happy to provide answers to any remodeling or custom home questions you might have.
Let's work together on achieving your housing dreams.
Search
Categories
Archives