7 Interior Design Trends to Look Out For in 2022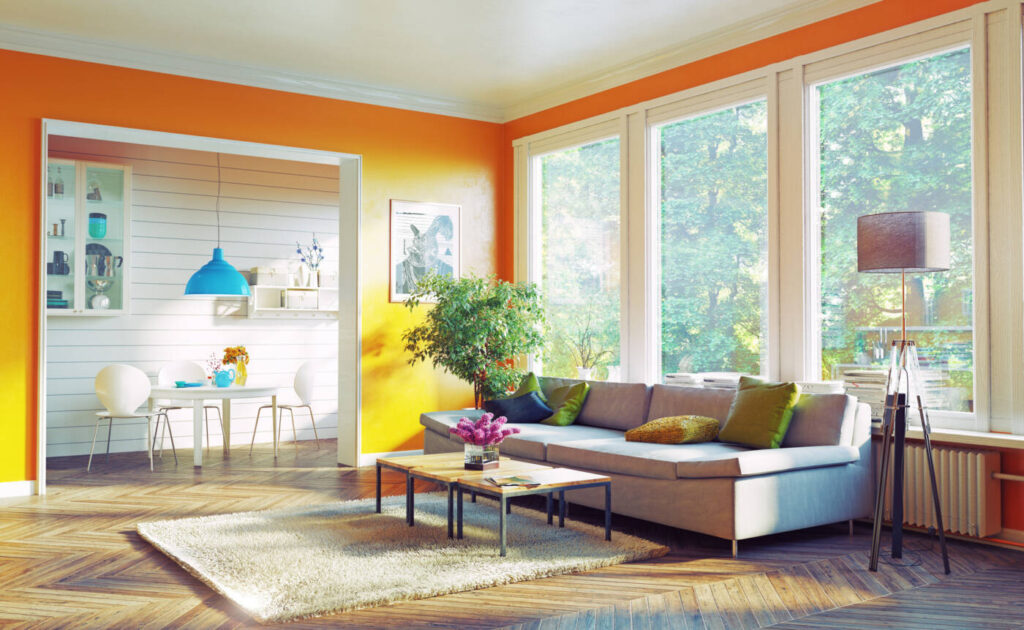 While home improvement spending rose approximately $420 billion last year, 2021 has projections that the remodeling market will rise almost four percent. Most millennials are resorting to fixer-uppers after housing costs skyrocketed.
In general, more people are feeling comfortable with allowing contractors to help design a custom home. Things don't look to be slowing down in 2022. Interior design trends, from work-from-home spaces to upgrading your old living room, are spurring creativity.
If you have an interest in new construction and design trends for 2022, then keep reading on.
1. Keep It Basic
Basic colors are popular. Painting the rooms in bright, cheerful colors might seem fun in the short term, but people are finding that it grows distasteful after a while. Instead, opt for simple paint colors on your walls.
These include things like beige, white, or other muted tones. Light and muted tones are helpful when you want a bigger-looking space. Choosing a dark color for the wall can actually make your room seem smaller than it actually is.
Not only are basic colors in, but they will modernize your home for years to come.
If you want a more trendy splash – then consider adding some Classic Blue into the mix. These blue or teal tones popped up in 2021 and are likely remaining throughout the 2022 interior design trends.
2. Minimalist Design
A minimalist design does not mean that you need to immediately throw away any items that seem to be cluttering your house. In interior design, stick to basic designs and minimal furniture. Choose your colors and furniture more carefully, such as round furniture or simple designs.
Round furniture has been popping up more recently, and clean, simple designs provide your room with a modern yet elegant design.
The idea for this trend was related to mindful shopping and the removal of non-functional items or clothes around the house during the pandemic. This idea stuck and now a room can seem more open and inviting with a simpler home decor look.
A minimalist approach can carry on into bedrooms, kitchens, and bathrooms. If you are having a difficult time determining what to get rid of in your house, then hire out a contractor who can help you plan out new ideas.
3. Multifunctional Rooms
While it may seem fun to decorate your house, make sure you stick to function. One sore point during the pandemic was that many people realized they didn't have a true working space in their homes.
Rooms that only hold one purpose are not where the custom home design trends are heading towards. Rather, you should focus your attention on furniture, desks, and even beds that are multi-functional.
These are important interior design tips for households that have limited rooms and not a designated work-from-home space. There are many different types of fold-away desks and multi-purpose tables for you to choose from.
4. Nature Designs and Eco-Friendly
You can help the environment and your living space with some simple tips and tricks from interior design experts. If you spend most of your time indoors, then look at purchasing indoor plants or starting a garden.
Planting roof gardens and growing herbs are two of the more popular trends that popped up in 2021 and are here to stay. Plants also help purify the air and can make your space friendlier and more inviting.
In addition to plants, look at choosing furniture and other materials made of natural materials. Some natural materials you can look at using for your upcoming new construction are:
Cotton
Linen
Clay
Ceramics
Velvet
Stone
Marble
Granite
Wood paneling is also a great look that you can try out. You don't have to be afraid of mixing and matching, many designers are choosing wood paneling with stone flooring.
5. Custom Home and Workspaces
If you are looking at building a custom home, then make sure you include a workspace. While many people have been floating from one room to another while trying to find a comfortable place for working, a designated room or space can make all the difference for your work environment.
The best way in doing this is through building a custom home or adding a room. You can even incorporate your workspace outside – if you have the environment for it. If that is the case, then consider a screened porch as a great option for getting work done in a calming environment.
6. Keep It Open
Combining living rooms and family rooms are no longer the trendy fashion statements for interior design. Keep your spaces open and fluid by combining living rooms, family rooms, and kitchens.
If you need a private space for work, then use a partition. These are giving homeowners a great option for designating a private area for working while keeping their house an open concept.
7. Green House
While plants are a great way to spice up an area, green colors are also in. If you want a bit of an accent in your house outside of minimalist colors, then the trendy option would be shades of green.
You can choose accent walls or furniture, or even incorporate it in with plants and gardens. Green provides a more clean and friendly space. Also, don't forget to include all-natural and organic materials.
Interior Design Trends
It is safe to say that 2021 shed light on minimalist, simple, and trendy designs that are here to stay throughout 2022. If you are looking at interior design trends for your home space, then consider hiring a contractor to help design a new custom home or revamp your old one.
They can provide you with ideas and suggestions for remodeling new or old spaces. Don't wait any longer – contact us today for a consultation!
Search
Categories
Archives