5 Types of Room Additions to Expand Your Home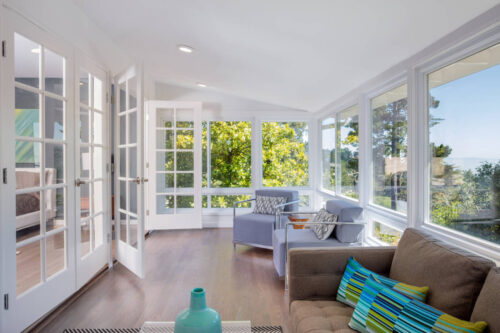 Whether you have a growing family or you just need some extra elbow room, a house addition can give you the extra square footage you need.
Before you look at different room additions, it's important to know which ones will serve your needs the best way possible.
Here are five types of additions to consider so you can get the absolute most enjoyment out of your home.
1. A Stunning Sunroom
There's nothing quite like relaxing in a beautiful four seasons sunroom. These room additions are popular because you can relax, enjoy the beauty of the outdoors, and stay protected from insects and weather all at once.
A sunroom is also a fantastic place for entertaining family and friends. If you love plants, it can also be a wonderful area to practice working on your green thumb thanks to the natural sunlight that this room addition gets.
Make sure you choose a sunroom that has thermal-resistant, weatherproof windows so that the room stays dry and cool. With the right design, it's a wonderful choice for people who want to soak in the sunlight without getting too hot and without being bitten by annoying bugs.
2. Room Additions Over the Garage
If your home already has a garage, an extra room on top can increase your home's viability significantly. This option is best if you live in a neighborhood where an addition to the back or side of your home just wouldn't be feasible.
There are tons of ways you can use and enjoy a new room over your garage. Whether you want to design a home office, have a fun game room, or even rent it out for extra income, this type of addition is a smart investment.
As you look into getting this new room, remember that it will require a lot of work including drywall, plumbing, insulation, and roofing. However, these types of additions are great for giving you a lot more space to enjoy your home.
3. Try a Bump Out for More Square Footage
Perhaps your living room is small and you just want a few extra square feet to enjoy. A bump-out is a good choice that will keep in line with the current layout of your home while giving you the expansion you need.
Talk to us about how you can get more square footage using this design. Whether it's a bigger kitchen or bathroom or an expanded master bedroom, a bump out is a great way to gain more space without dealing with a lot of construction.
Aside from a simple process, this option will cost a lot less than most other room addition projects. Consider choosing a bump-out as a trial run to see if you can handle the rigors of construction. It's also a great way to see the impact that adding some extra square feet can have on your home and your life.
4. A Completely New Story
If you live in a ranch home but want to add a second story, this home expansion is a great choice. While it will require a lot of permitting and a bigger budget, it will feel like you're buying a whole new home on top of the one you already have. Your second story can be small and just include another bedroom or two if you choose, or it can span the entire length and width of your home.
If you have a growing family or you're planning to stay in your home well into the future, adding a second story is a good choice. Essentially, this option will double your home's square footage and increase the appraised value, too.
Make sure that you consult with a builder before you opt to add another story to your home. This type of project will require a lot of legwork and an experienced team who understands how to perform this type of work the right way.
5. Adding a New Bathroom
If your home only has one bathroom, sharing it with the whole family can be a frustrating experience. It's also extremely inconvenient to have to offer your main bathroom to guests when they come over to visit.
Many homeowners choose a new bathroom for their room additions to make life easier and more pleasant for everyone. You can choose to add it downstairs as a guest bath or install a new bathroom next to your master suite for your own private spa. The bathroom can be simple with just a sink and toilet or it can be large and expansive with a walk-in shower.
The cost of adding a new bathroom depends on where it will be located, how large it will be, and how much additional plumbing and electrical work is involved. Depending on the layout of your home, you might have to give up space like a large closet or another storage area to make room for the new bathroom. Still, many homeowners feel that sacrificing storage is well worth it to gain more bathroom access.
Upgrade with a Home Addition
If you're ready to spread out and get more space, consider these room additions to provide you with the extra square footage and functionality you need. From a beautiful sunroom to a new bathroom, the right remodeling company will give you the perfect home expansion.
To find out more about our remodeling and addition services and much more, contact us today and we'll be happy to help you design the perfect home for your family.
Search
Categories
Archives