How to Transform Your Outdoor Space Into a Relaxing Oasis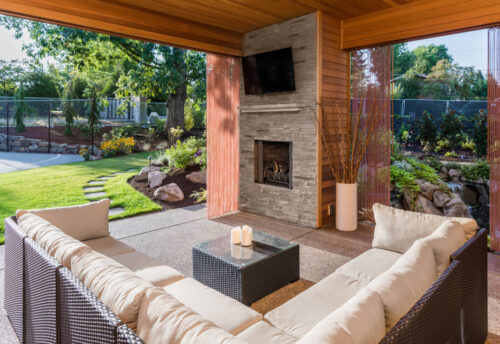 During the past few decades, houses have been growing larger while backyards are shrinking. The average backyard is almost 15% smaller than it was in the early 1990s.
On the contrary, new construction for homes has tacked on an average of more than 200 square feet compared to 20 years ago. Larger houses could give a possible indication as to why backyards are smaller than ever.
No matter the size of your house, an outdoor space can tie in your house and backyard perfectly. It can be a great reprieve for your family or friends and should be emphasized when constructing a custom home.
If you have an interest in learning about how an updated outdoor space can transform your property and house, then keep reading on.
Patio Area
Your patio space is a key part of recreating your backyard. First, start with the set-up of your outdoor space. You may notice you have rotted and old patio furniture that never gets used.
You are much more likely to use the outdoor space for gatherings and relaxing if you have comfortable, chic, and functional furniture. However, you can have the best patio furniture in the world, but it means nothing if you don't have a good space for it.
A lot of patios are made of concrete, but it doesn't have to be a deal-breaker for creating a bright landscape. You can accent your patio with strips of grass or greenery that break up the monotony. Some architects have also used patterned or colored concrete for providing a more modern look.
Also, don't shy away from linear shapes. These contrasting lines in the form of fireplaces or patio walls can redefine your backyard. Lastly, floating pavers are concrete squares placed in gravel beds.
Similar to geometric designs and patterns, the break up of the concrete with the gravel provides a modern and sophisticated look to any type of backyard.
Outdoor Kitchen
Take your outdoor furniture to the next step and add it to a new outdoor kitchen. Just like it sounds – you can have the whole cooking and dining experience all from the comfort of your outdoor patio space.
Some of the benefits of constructing a kitchen outside include:
Eliminating smells in the house
Energy savings
More indoor space
Entertaining
Adding value to your home
You might be wondering how an outdoor kitchen versus an indoor kitchen can increase your home's value. More people are valuing cooking from home rather than going out to eat. These kitchens also provide you with more opportunities for adding in a wood stove or pizza oven.
It also frees up space within your house. You can redesign your kitchen into a larger living or family room for more space.
Add Some Greenery
You don't have to build a greenhouse to add some life to your backyard. Adding shrubs, plants, trees, and flowers can completely redesign your outdoor space and provide a more inviting atmosphere.
Planting trees can also act as a natural way for shade. If you have lots of concrete or bland space, a burst of color can add dimension and soften the harshness of an outdoor patio.
If you don't want the typical flower beds, then you can do raised flower beds, potted plants, or hanging plants. The latter is extremely beneficial for patios and outdoor spaces that don't have a lot of room.
You can also put that outdoor kitchen to better use by planting your own garden with vegetables, fruits, or herbs. Plants act as a natural cleanser by eliminating toxins and helping in the conversion of carbon dioxide to oxygen.
Gardens are fairly easy to take care of as well. If you have problems with pests, there are a lot of natural herbs and plants you can use that attract ladybugs and spiders. They work towards eliminating harmful pests from devouring your garden.
Some other helpful tips for a greener space include watering on a schedule, pruning, and planting based on the time of year and weather.
The View
If you are away from your neighbors and have an amazing view, then don't cover it up with walls and tall trees. Having an open view can create a relaxing environment. In today's hectic world, houses are often constructed close together and it is likely that you can peer right into your neighbor's yard.
Privacy is also a key feature when you want to transform your space. You can add glass, panels, dividers, or shrubs for a more unique backyard that still gives you privacy from your neighbors.
You can also take the idea for a garden and incorporate it into a wall. Living walls add privacy, fragrances, and the benefit of more greenery in your outdoor area.
If you deal with the hustle and bustle around you, then a water feature can mask noisy conversations or the buzz of traffic. Ultimately, you want to ensure that the view you are getting, whether it is in the backyard or the landscape beyond, is inviting and secluded.
Your Outdoor Space
If you want to redesign your outdoor space, you can add value to your home and have a secret oasis for you to retreat to when you get sick of working indoors all day. Adding greenery, patio furniture, and even an outdoor kitchen can all work towards transforming your space.
If you have an interest in a custom home, you can help design the backyard and outdoor area from scratch. No matter what your backyard needs are – be sure to contact us today and let one of our contractors help remodel your outdoor area.
Search
Categories
Archives