7 Bedroom Design Tips for Your Custom Home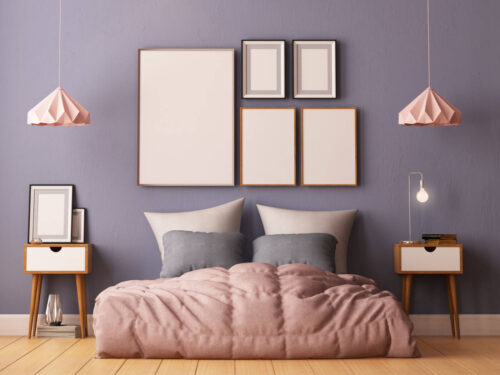 The Mental Health Foundation discovered that your association with your new bedroom can affect the quality of your sleep. Choosing the right bedroom decor for your new construction custom home is essential for your mental health and sleeping habits.
In this article, we discuss the best design tips to incorporate into your bedroom design. Continue reading if you want a space that is welcoming, comfortable, and uniquely yours.
1. Layer Your Colors
When it comes to choosing colors in your custom home, consider layering them. This is one of our favorite bedroom design tips because it's a way to add depth to your space while making it appear as large as possible.
Start by choosing a dark color for the bedroom floor. This includes flooring, rugs, footstools. Choose a medium color for walls, lamps, and dressers. Finally, select a light color for the ceiling and any tall accessories.
Approaching your color scheme with this mentality mimics a natural environment. The ground tends to be darker while the sky tends to be lighter. Having the lightest color near the ceiling elongates your space.
2. Incorporate Your Style with Trends
New construction gives you the freedom to use any design tips you want, so you should have fun deciding. Start by reviewing the most popular trends for inspiration. Examples include designs with bold colors, upscale rustic style, and a vintage feel.
Once you've found a trend that you love, try to incorporate some of your own personal style. If you love the bold color trend but tend to prefer neutrals, incorporate a bit of both. This will make the space feel uniquely yours and prevent you from getting bored.
3. Find Your Focal Point
When you walk into your new construction bedroom, where does your eye naturally gravitate to? This area is referred to as the focal point of a room. It can be either a window, a bed, or a fireplace.
When incorporating bedroom features, plan around this focal point in order to emphasize it. If you're having trouble finding one focal point, then you can create your own by rearranging bedroom decor.
Finding your bedroom's focal point helps bring balance to the room. It will guide you on how to design the layout of the room to enhance the aesthetic. Leaving your room unbalanced is one of the most common interior design mistakes.
4. Minimize to Maximize
A custom home should be a place where you feel the most comfortable and at peace. An accumulation of belongings can leave your home cluttered, which leaves you feeling stressed and disorganized.
Consider taking a minimalist approach when it comes to choosing bedroom decor. Simple lines and open space are key to achieving this look. These design tips also contribute to making your room appear larger.
5. Add Plenty of Light
A new construction bedroom design should incorporate as much good light as possible. Effective lighting transforms a space by adding dimension and texture. It can even change the entire vibe of your bedroom.
The right light can make a small sitting area feel cozy and make a closet feel energetic. It can also emphasize certain bedroom features and hide imperfections.
The best way to achieve good lighting is to incorporate different kinds of lighting. Natural light, such as a skylight or large window, adds dimension. LED lights visually create more space, which is perfect for a walk-in closet.
6. Leave Space for Seating
When deciding on bedroom decor, don't forget about seating. One of the benefits of a new construction custom home is the ability to transform your bedroom from a place where you sleep to your own private lounge space.
Account for the addition of a small sofa, lounge chair, and/or coffee table in your bedroom. This is a great space to read a book or relax at the end of the night. If you can, we recommend incorporating this space near a window for access to natural light.
If you're short on space, then consider taking a less extensive approach to your lounge space. A small loveseat or an armchair near the foot of the bed can still be a great place to relax. You can tie everything together with a small end table.
7. Incorporate Texture
Incorporating texture in your new bedroom is another way to add depth and definition to your custom home. If you are going for a look that's modern, choose smooth, shiny textures that reflect light.
If you prefer a rustic aesthetic or something more relaxed, rough textures are a better option. This can include wooden accessories such as a dresser or mirror frame.
The use of fluffy rugs or blankets is an easy option as well. You have more flexibility to switch between different aesthetics with ease if your source of texture comes from rugs and blankets than larger pieces of furniture.
Custom Home Considerations
When incorporating your favorite design tips in your new construction home, be sure to consider the order in which you make your decisions. Choosing different pieces of furniture before selecting your color scheme and design trend can leave you with a mismatched room.
You also want to be sure to get a good feel for your space before making any grand changes to it. Consider how the natural light hits the room and which areas to leave open for foot traffic. Avoiding rushing into designing can prevent making design mistakes.
Make Your New Construction Feel Like Home
Choosing design ideas for your custom home should be a fun experience. Take the time to get to know the feel of your space. Then, find your favorite bedroom features and trends to create a space that's uniquely yours.
To learn more about new construction and getting the house of your dreams, contact our team today.
Search
Categories
Archives