Top 7 New Construction Mistakes to Avoid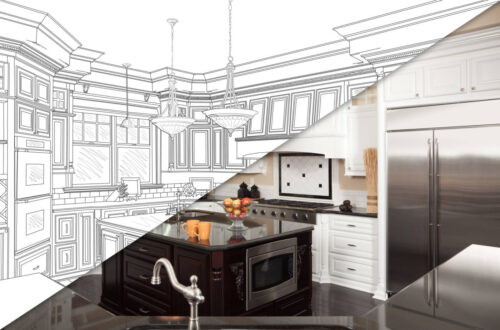 Around 20% of all homes built are custom designed and made to suit the homeowner's needs. This is an exciting prospect for those looking to get into a new home and want to make it feel as comfortable as possible.
But new construction can be difficult to manage and make sure it turns out just the way you were hoping. There are so many factors to consider and details to decide on, things can get out of hand quickly if you're not careful. That's why we always recommend having a plan in place before you even begin so you can better stay on track.
We've put together this guide of the seven most common mistakes people make when building a home.
1. Rushing Into Agreements
Before you can even begin to build a home, there are a lot of decisions that need to be made and agreements signed. These are meant to protect you and the other people involved in the build.
In these agreements, you'll find all of the technical details of the project, who is responsible for what, and even some of the finish choices. It's crucial to take as much time as you need to make sure every aspect of the contract is something you agree to.
The last thing you want is to have something go wrong in your mind only to realize you had agreed to it as you rushed to get construction started.
2. Limiting Natural Light Sources
For most homeowners, there is no such thing as too much natural light in a space. When a space is brighter it feels cleaner and bigger. You feel like you can relax and breathe because the room isn't closing in around you, it's like you can open up and spread out. Not to mention the gorgeous views.
It can be hard to tell how much light the space will get from the floor plan drawings. So it's important to get professional advice to make sure there will be enough light available.
If all else fails, you can follow these tips to make sure you're increasing the light in your home.
3. Wasting Space in the Home
When you don't have a lot of experience reading floor plans and understanding what they'll translate to once built, it's easy to mismanage the space you have. The ability to plan your space is a huge benefit of getting a custom home, so you need to take advantage of that opportunity.
Many people end up wasting space by making rooms bigger than necessary or creating rooms that won't be used at all.
As you're planning the layout, think about your family's daily routines and the issues you have in your current house. Space planning is the best way to solve pain points and make it so you can function much more effectively.
4. Limiting Storage
The biggest space planning issue people run into is forgetting to focus on adding storage where possible. More than 85% of homeowners want a walk-in pantry to help them keep their food storage as organized as possible. The same goes for extra closets and garage spaces.
Think about where you'd like to be able to keep things so they are convenient and readily available. Then try to figure out where you could add storage near that spot.
The more smart storage you have, the cleaner and nicer your home will look once you move in!
5. Focusing on Looks Only
Along the same lines, many people run into problems with their custom home when they focus only on the design features and forget to make sure it will function well. The looks of the home are the fun part, so it's natural to want to skip to those.
But living in a home that doesn't work for your family will be so frustrating and make your home a sore spot.
Take the time to get the fundamentals and the function in the right place. Then you can layer on the additional design choices to make it really feel like home.
6. Failing to Add Custom Details
Speaking of the additional design details, many homeowners become overwhelmed at the choices in front of them and just make them as quick as they can. This often leads to them not being as satisfied with the end result as they could be.
Take your time and focus on one decision at a time until you've completed your whole list.
It's helpful to make a wishlist of features you'd like to have in your future home before you begin the design or building process. This will help you not forget about something and keep your priorities at the front.
7. Overdoing the Budget
While you want to end up with a custom home you're happy with and that fits your needs, you don't want to completely blow the budget doing it. You'll be living with that choice for decades to come.
Experts suggest making a list of your dream house, then dividing that list up into needs and wants.
As you are making choices and watching the budget, you can consult your list to determine which items are a priority and which aren't. This will help you keep your budget on track so you can afford the final product and not be in financial trouble.
New Construction Mistakes to Avoid
Working in new construction is both thrilling and overwhelming at the same time. One of the most important decisions you can make in the process is to partner with the best designers and builders so you can get exactly what you want.
When you have a good team on your side, you know that everyone has the same end goal in mind and can trust decisions that are made. It'll be a much more pleasant experience than trying to handle everything on your own. Plus, another set of eyes always helps get just the right look.
If you're interested in learning more about custom home building and what might be possible for your home, contact us today to schedule an appointment.
Search
Categories
Archives