Should You Finish Your Basement?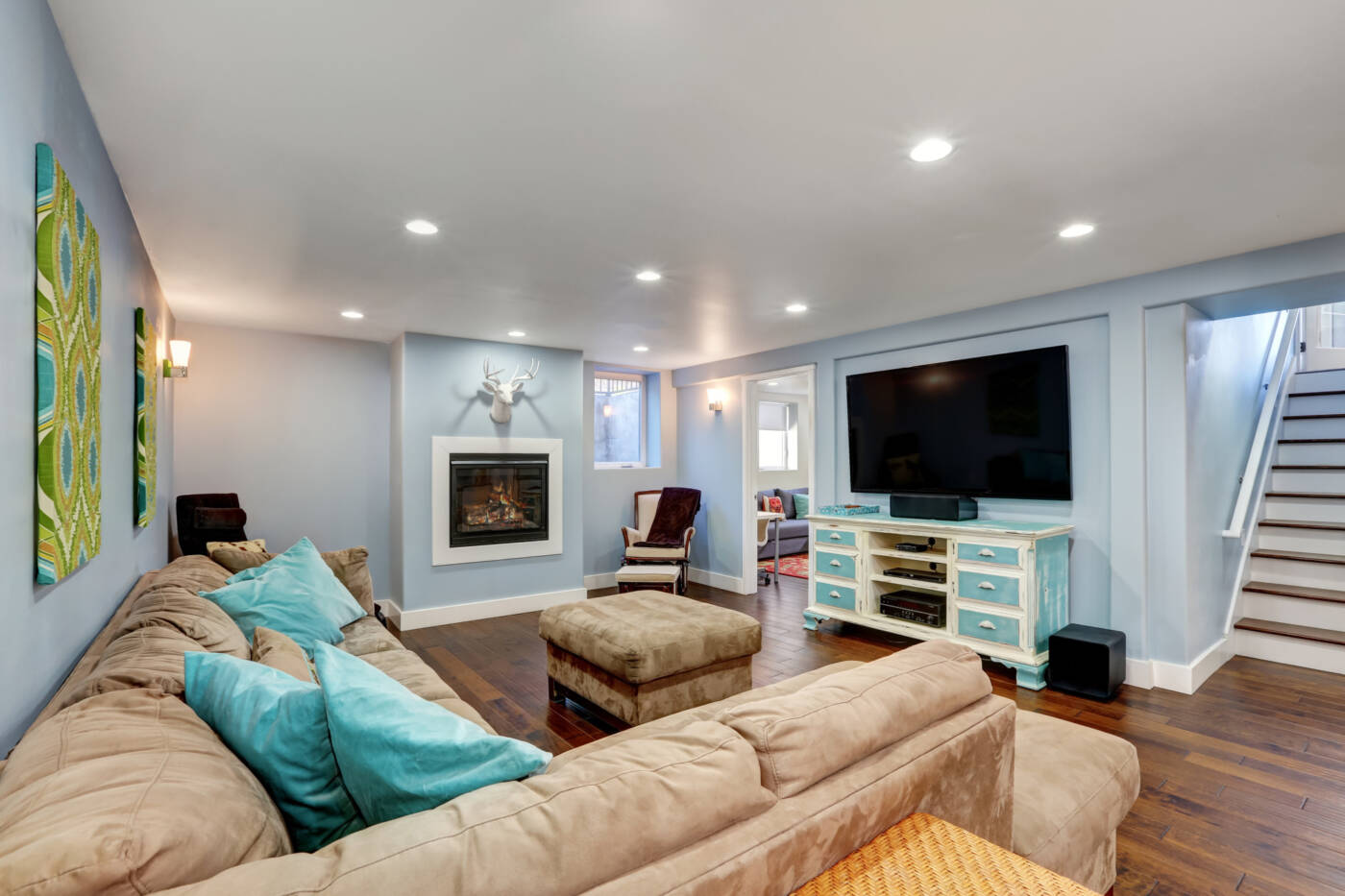 Have you been sitting on an unfinished basement, but not sure yet if you should pull the trigger and finish your basement? Finishing your basement has countless benefits, one of them being you recouping around 70% of your total spending.
Finishing your basement adds additional square footage to your house, whether you add in an extra bedroom or make it a common area for your entire family to enjoy. The cost of the project isn't cheap, but the investment pays for itself when it comes time to resell your home.
This guide will go over the benefits of finishing your own basement and different ideas so you can maximize your space.
What to Consider When Deciding to Finish Your Basement
Don't let the lowest level of your home go to waste. Expand your house's functional space while boosting your property value.
Before you get started on the project, take the following items into consideration:
If there'll be a TV viewing area, place it in the darkest part of your basement to reduce the amount of glare
Any bedroom added to the basement needs a window in case of emergencies
Place the main socializing area in the spot that gets the most natural light
You want to determine what the function of the basement will be. You can add additional storage, sleeping, and socializing areas to your basement. Figure out what you want so you can plan your layout accordingly.
You'll also want to think about how you want to finish the ceiling in your basement. Drop ceiling tiles are a great option because you can move them around to access electrical hookups or plumbing pipes. Keep in mind that your ceiling can only be as high as your lowest hanging duct, wire, or pipe.
Another thing to consider when planning out your basement is accounting for an escape route. No one wants to think about a fire or some other type of emergency happening, but it's always good to be prepared.
Egress windows need to be large enough for a firefighter equipped in full gear to get into. Another egress option is installing doors that access the outside.
Flooring is another vital component of a finished basement. Solid wood flooring isn't a great option for a basement because any moisture can result in splitting and buckling. Look for ceramic tile, engineered wood flooring, or vinyl planks.
You don't have to sacrifice style over form and function. There are a lot of flooring options available that mimic higher-end flooring options.
Thoroughly Inspect and Fix Your Basement
One of the things you'll want to check for in your basement is moisture. Start by taping two-foot squares of plastic sheeting on the walls and floor. After waiting a few weeks, look to see if condensation has formed.
If there's condensation underneath, that means your foundation isn't sealed. If there are water droplets on the top of the plastic, you'll need to dehumidify your basement.
You can check for insect damage and rot in the rim and header joists, floor joists, and other areas by probing with an awl. Any areas of concern need to be addressed and fixed before you finish your basement.
Is It Worth the Cost to Finish My Basement?
Getting your basement finished is a great way to increase the value of your home. Many potential homebuyers look for houses that have basements that are already finished. They're willing to pay extra money for your home upfront instead of having to deal with the cost and hassle of finishing the basement themselves.
Additionally, a finished basement increases the square footage of your home, enabling you to price your home for more money. You'll be able to enjoy having a finished basement in your home while you live there, knowing that your home will sell for more when the time comes.
While you do recoup some of your costs when finishing your basement, you won't get back 100% of them. Like we mentioned before, you can expect the increase in your home's value to cover about 70% of what you spend finishing your basement. However, that's still a great return on investment.
Finishing Your Basement Ideas
You can make your basement into any type of space to suit your family's needs. Basements can be dark, so take natural and artificial light sources into consideration. It's also a great place to have noisy activities take place in your home.
Create a New Den
A den is a great place for your family to gather together to watch a movie or spending some quiet time reading. Add in a game room and home theater area so everyone can do whatever activity they enjoy.
Since the basement area is tucked away, you don't have to worry about keeping it clean at the end of a fun night. Focus on having fun with your family instead of stressing over keeping it clean.
Studio Apartment
If you want to make additional income off of your home or create a place for family members to live, turn your basement into a studio apartment. This idea is especially great for basements that have a separate entrance to the outside. Utilizing existing windows and artificial light sources can make the studio apartment feel open and airy.
Laundry Room
For those who have their washers and dryers already in their basements, why not increase the functionality of the space by making a dedicated laundry room? Add in a large workspace so you can easily fold clothes right out of the dryer. You can also add a utility sink for convenience as well.
Look for flooring options that are easy to clean and hard to damage or scuff. If you happen to spill cleaning solution, you don't want to accidentally damage the flooring.
Work With Design Custom Homes to Finish Your Basement
It can be difficult learning how to finish your basement if you're not a professional. The team at Design Custom Homes has remodeled numerous basements. Let us help you bring your vision to life.
Contact us today for a consultation.
Search
Categories
Archives