7 Affordable Home Remodeling Ideas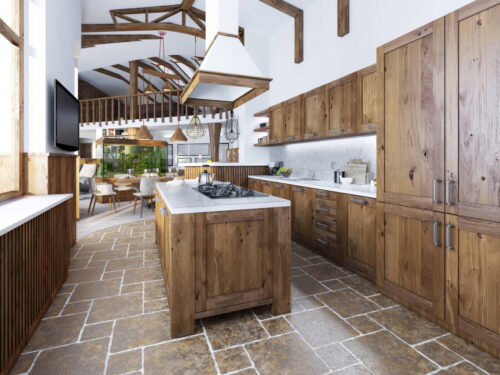 When you think of home remodeling, you may grimace at the perceived expense of thousands – or tens of thousands, of dollars. But home remodeling doesn't have to be expensive. There are many options available to make your remodeling easier, including home remodel loans.
If you're looking around your house and are wondering where to start, don't worry, we've got you covered with affordable remodeling options.
Here are 7 home remodeling ideas that won't break your budget.
1. Piecemeal Room Remodeling
Remodeling a whole room can be expensive. But you can do it piecemeal, bit by bit, and slowly upgrade your space. Even if you don't update everything, you can update a few key pieces to make a big impression.
For example, let's say you wanted to remodel your kitchen. Instead of doing it all at once, you could do it with a few budget-friendly touches:
Change the Backsplash
The great thing about a backsplash is that there are so many options available. Not only are there different colors, but there are plenty of patterns and materials you can use. Tile, stone, and ceramic are a few of the options available to you.
You can update to a new backsplash that adds visual flair or serves as a focal point in your kitchen.
Add a (Faux) Island
You can always add an island to your kitchen, but if that's out of your budget, you can add a faux island instead. Stand-alone cabinets or a table can serve as a makeshift island, provided they have casters that allow you to move it at will.
Upgrade Cabinets
Kitchen cabinets can easily be upgraded with simple methods like paint or wallpaper. You can easily add new patterns to your cabinet doors or update your cabinet shelves.
Modifying existing cabinets can make a big change. Removing cabinet doors and creating open shelves can completely change the look of a space. It will force you to stay organized, let you easily see what you have, and is a great option for storing collections of China, salt and pepper shakers, or other goodies and knickknacks.
2. Use Paint as a Refresher
A simple coat of paint can do wonders for a room. Drab walls can suddenly burst to life with color, or existing walls can get retouched. Even painting your trim a new color can drastically change things.
If you're looking to make a good first impression, paint is a great option for entryways. Either interior or exterior entrances can benefit from this. Plus, a new paint job on your home's exterior is a great way to raise your curb appeal.
There's a reason why paint is one of the more popular home remodeling ideas – it's affordable, and can be a DIY option.
3. Remodel Your Closet
Shelving units are an affordable way to drastically increase your closet's storage size.
Much like redoing your cabinets, you can add wallpaper or paint to your shelves to make them more interesting.
You can add a rod and clothes hangers for additional space, or colorful baskets for storing random items and articles of clothing.
Closets are great for any minimalists in your household. They allow for easy storage and hiding of any items you might need not in your day-to-day life. After a few months, if you haven't used an item in your closet, you can consider getting rid of it and further downsizing your life.
4. Add Crown Molding
Few accents cut a profile so striking as crown molding. Baseboards and door casings can be elevated to a luxurious look with crown molding.
Crown molding may be made from wood, plaster, polyurethane foam, flexible polyurethane, or plaster-covered foam.
Today's crown molding is affordable and usually easily installed by one or two people. The exception may be plaster molding, which is heavy and rigid. For installing plaster crown molding, it's best to seek professional help.
The plus side of plaster is how ornate it can look. Each hand-cast piece can be extremely detailed. Throughout history, plaster molding has been used to add character to a room.
Crown molding was originally used in public areas to impress visitors. It's a great feature to add to your foyer, living room, or other areas where you are sure to entertain guests. The elegant detailing can make a space feel more inviting.
5. Remodel the Basement
You can always remodel – or finish your basement. Not only can it increase the value of your home, but it's a great way to maximize your use of space.
Obviously depending on the size of your basement and the material choices used your costs may vary. But in turn, you can have an awesome spare bedroom, entertainment center, or man cave.
6. Spruce up the Bathroom
Sprucing up a bathroom in your home can be an easy, affordable upgrade.
Changing the tiles can add new colors and patterns. Installing a corner shelf can add to your storage space. For an even more interesting storage solution, use floating shelves.
The bathroom is also a great place to save money by installing water-efficient fixtures. Replacing old bathroom faucets during a home remodel could save you as much as 11,000 gallons of water over the faucet's lifetime.
That's just from replacing a bathroom faucet. Replacing the showerhead and toilet with more water-efficient models will save you even more.
7. Install Insulated Floors
Insulated floors can keep you cozy, giving you a little extra warmth on those chilly nights. Eco-friendly options like cork flooring are natural and heat absorbing. Plus, they look great and are durable.
While cork flooring is great for most areas, due to its absorbency you wouldn't want to use it in areas with lots of moisture, or in rooms where it may get wet.
Looking for Home Remodeling Help?
Design Custom Homes is the premier custom home builder and remodeler in South Central Wisconsin. Unlike other home remodeling companies, we've been serving the area since 1995. We partner with homeowners to get to know them and their unique build needs.
Contact us today for your next home remodeling project.
Search
Categories
Archives