Home Design: How to Get the Most from Outdoor Spaces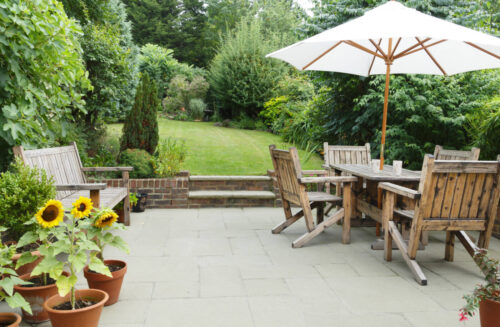 About 88% of Americans who have outdoor living spaces say they're dissatisfied with them.
When it comes to outdoor spaces, many homeowners feel like they are limited in what they can do. This doesn't have to be the case. There are many ways to get the most from your outdoor areas, whether you have a large yard or just a tiny balcony.
This blog post will discuss some home design ideas that will help you make the most of your outdoor spaces. So read on for tips and tricks that will help you create an outdoor oasis right in your own backyard.
Create Shade
A hot day spent outside is only bearable if you can find some shade. Unfortunately, not everyone has the luxury of having huge trees shade their yard.
If you're one of the unlucky ones, don't despair! There are plenty of ways to add shade to your outdoor living space ideas.
One easy way to get started is by adding a covered patio or pergola. A pergola is an arched structure that provides dappled light and shade—perfect for summer days. You can buy pre-fabricated pergolas or have one custom built to fit your needs.
If a covered patio isn't in the budget, consider adding an awning or umbrella instead. These can be purchased inexpensively and are easy to set up. They're also a great way to add some color and personality to your outdoor space design.
Consider adding an arbor or pergola as a focal point if you have a large yard. Not only will it provide shade, but it will also add beauty and interest to the space.
No matter what type of shading you choose, make sure there is plenty of coverage for hot days. You don't want your guests wilting in the sun while they try to enjoy your outdoor living area.
Use Decorative Pillows and Rugs
One of the easiest ways to add personality to your outdoor space is by using decorative pillows and rugs. These can be used to create a cozy seating area or add some color and interest.
Pillows and rugs are also a great way to protect your deck or patio from wear and tear. Choosing a durable fabric like Sunbrella is a good way to ensure that your decor will last season after season.
When selecting pillows and rugs for your outdoor space, make sure to choose colors and patterns that will brighten up the area. You don't want everything to be too dark or heavy—the space should feel light and airy.
Be sure to bring in some of your indoor decorating styles as well. This will help to unify the look of your outdoor and indoor spaces.
Add plants and Flowers
Adding plants and flowers to your outdoor space is a great way to make it feel more alive. Not only will they add color and beauty, but they'll also help filter the air.
When selecting plants for your outdoor area, be sure to choose drought-tolerant ones. This will save you from watering them constantly in the summer heat.
You can also add some container gardens to brighten up the space. Be creative with your plant choices—you don't have to stick with traditional potted plants. Try using succulents, herbs, or even vegetables in your containers.
If you're feeling adventurous, you could try creating an edible garden right outside your door. This is a great way to grow fresh herbs and vegetables while also beautifying the space.
You can combine your edible garden with other plants, such as flowers or shrubs, for an even greater effect.
If you have a small outdoor area, consider growing plants in containers instead of planting them directly into the ground. A few potted herbs on your patio will look lovely and provide seasoning for all of your meals.
Add Lighting
Lighting is an important element of any outdoor space. It adds ambiance and allows you to enjoy the area after dark.
Consider hanging string lights or lanterns from trees or around your deck. These will provide plenty of light without being too harsh on your eyes.
You can also add some candlelight by placing candles in glass jars and setting them on tables, chairs, or other surfaces throughout the space.
Another great lighting option is solar-powered lights—these don't require any electricity, so they're safe for use outdoors. They also come in many different styles and colors, so you can find ones that work with your decorating style.
If you don't want to use lights at night, consider adding a fire pit instead. This way, you'll have some light as well as warmth during those chilly evenings.
Fire pits also provide an excellent focal point for outdoor gatherings.
Use Furniture Strategically
You want to make the most of the area while still keeping it comfortable and functional.
Think about using a mix of small and large pieces. This will help you to create different areas for relaxing, dining, or entertaining.
If you have a lot of space, consider adding an outdoor sofa or sectional. This will provide plenty of seating for guests and can also be used as a makeshift bed if needed.
Be sure to choose weather-resistant furniture that can stand up to the elements. Wicker and teak are great options for this.
If you're feeling creative, try painting some old pieces with a fresh coat of paint or adding new cushions to your outdoor chairs. This will give them an updated look without having to buy brand-new furniture.
Screened Porch
A screened porch is the perfect way to enjoy your outdoor space without worrying about bugs or other pests.
If you have a large yard, consider building one of these right off of your house. This will allow you to spend more time outside and less time inside during those hot summer days!
The best part is that they're not just for eating dinner on—you can also use them as an extra living area when entertaining guests too.
They're great places where friends and family can gather around while enjoying some fresh air together.
Outdoor Spaces You Can Use All Year Round
Implementing these simple home outdoor space ideas will help you to get the most out of them. Don't be afraid to experiment and try new things. You may be surprised at how much you can change the look and feel of your outdoor area with a few easy tweaks.
Are you ready to start designing your perfect outdoor space? If so, we're here to help! Our team of designers at Design Custom Homes will work with you every step of the way, from concept through completion.
Contact us today to get started.
Search
Categories
Archives