6 Different Types of Modern Interior Design Styles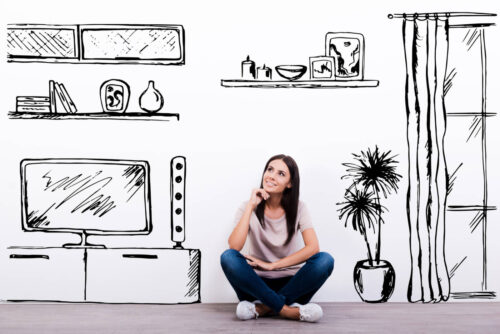 There are well over 40,000 interior designers currently working in the USA today. So it's clearly an in-demand profession. But why is that?
Well, homeowners, it seems, have a hard time defining their favorite interior design styles.
Is Modern Farmhouse the look of 2022? Or should you channel the never-out-of-date Mediterranean vibe? It can be an endless quest to decide what works for your tastes, lifestyle, and budget.
Below, we list some of the most popular interior design styles today. This guide will help you work out the answer to that age-old question, "What is my interior design style?"
1. Eclectic
If you're an avid reader of interior design or architecture magazines, you've probably seen this design style gracing the pages.
Maybe it was a photograph of a living room. There were boldly patterned walls, a sleek steel and leather designer couch covered in fluffy throws and pillows, and fussy antique dressers cluttered with artworks in gold and glass photo frames.
Eclectic design might look messy, but it's actually carefully planned out. To get it right, you need to know all the rules of interior design and then set about breaking them. Pair clashing textures and patterns together and gather furniture pieces from different eras.
Other modern styles related to Eclectic include Bohemian (Boho) and Shabby Chic. Like Eclectic, they amplify the free-spirited, not-scared-to-dare nature of the homeowner.
2. Mid-Century Modern
Understanding the foundational style of Mid-Century Modern is essential for people looking to broaden their knowledge of different interior design styles. Though this style started its evolution in the 1930s, it really came into its own after World War II. In America, Mid-Century Modern is epitomized in homes designed by architect Frank Lloyd Wright, Joseph Eichler's "Eichler homes," and the design work of Charles and Ray Eames.
This style emphasizes cheaper materials like aluminum and plywood, molded plastic, sleek, clutter-free furniture, and organic shapes. Colors like burnt orange, mustard, and varying shades of brown contrast with the bright glow of stainless steel.
Mid-Century Modern homes make use of natural light to add dimension to a space, so keep your window treatments minimalist.
3. Modern Farmhouse
Barn doors, shiplap, wide plank floors, and vintage shop signs hanging on the wall. All of these features are common in the exceedingly popular Modern Farmhouse interior design style.
Modern Farmhouse combines all the charm of country living with today's contemporary comforts. When picking out furniture, aim for a mix of new and old: pair a coffee table crafted from reclaimed barn wood with a deep and cozy low-seated sectional sofa. Kitchens feature traditional cabinetry, enormous farmhouse sinks, and butcher block counters.
The color palette tends toward neutral. Designers combine tones taken straight from nature—forest greens, smoky greys, and tree trunk browns—with pastels and whites.
4. Industrial
As the name implies, the industrial style interior design was born from the elements seen in industrial revolution-era factories.
People living in urban centers like New York in the 2000s were struggling to look for homes to live in, so they started renovating disused industrial buildings into apartments. These so-called "loft apartments" featured high ceilings, floor-to-ceiling windows, unfinished concrete or exposed brick walls, and uncovered steel beams.
As the style evolved, features that were once considered cold or hard became selling points. The apartments were fitted out with furniture to match, often made from upcycled materials, leather, and polished metals like copper.
This style remains popular today, though elements of it have been adopted into other styles, such as the reclaimed materials of Modern Farmhouse or the wide-open spaces and minimalism of Scandinavian style.
5. Mediterranean
Another of the modern interior design styles making a comeback today, especially in warmer parts of the United States, is Mediterranean.
As the name implies, this style has its roots in locales that skirt the Mediterranean Sea, such as the Amalfi Coast in Italy, the French Riviera, and Korčula in Croatia. This style favors a more ornate aesthetic, embracing weathered stone, decorated tiles, columns and archways, luxurious furniture and fabrics, and an indoor-outdoor flow.
When choosing a color palette for this style, look to the colors of the ocean: bright or pale blues and greens, sandy yellows, and slate greys.
6. Coastal
While Coastal has some similarities with Mediterranean, such as the breezy feel and lots of natural light, this style is actually inspired by Hamptons-style homes.
The touches of luxury are there in the furniture and fixtures, but they are more muted than ornate. The color palette is similar, too, but it pushes more into the pastel range than the vibrant colors you see in Mediterranean-style homes.
Of course, if you live by the beach, this style is ideal for you. But even if you don't, you can still channel aspects of Coastal into your home design. Why not feel like you're on vacation all year round?
7. Scandinavian
Of all the types of interior design styles out there, Scandinavian is probably the one that feels most familiar to us. Why? Because, for better or worse, our homes are filled with IKEA furniture—one of Scandinavia's most well-known global exports.
Of course, the Scandinavian style is much more than cheap, flat-packed furniture. There's the concept of the Danish concept of hygge, for a start, which means creating an atmosphere for coziness, warmth, and security.
To channel the Scandi look, focus on wood, simple patterns inspired by nature, soft fabrics, and natural fibers. Keep your spaces free from clutter, only displaying and keeping your most precious or useful items. That includes even private rooms like the bedroom.
Interior Design Styles for Custom Homes
Whether you want a Scandi home or prefer a shabby chic aesthetic doesn't really matter.
What's most important is that you do your research, decide which style suits your tastes and lifestyle, and stick with that throughout your home. This will ensure your interior design flows seamlessly from room to room.
Are you looking to renovate your kitchen, add a porch, or remodel your basement? Design Custom Homes has the interior design styles know-how you need to get the job done efficiently, beautifully, and on budget.
Learn more about our custom home building services today.
Search
Categories
Archives